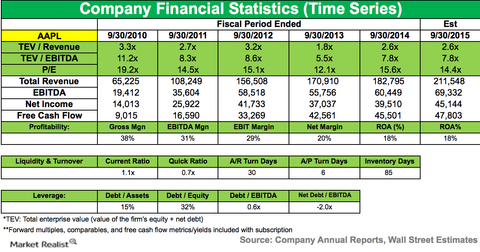 Eminence Capital initiates new position in Apple
By Diana Key

Updated
Eminence Capital starts position in Apple 
Eminence Capital initiated a position in Apple (AAPL) during 3Q14. The position accounts for 1.58% of the fund's 3Q14 portfolio.
Article continues below advertisement
About Apple
AAPL is based in Cupertino, California. It designs, manufactures, and markets mobile communication and media devices, personal computers, and portable digital music players. It also sells a variety of related software, services, peripherals, networking solutions, and third-party digital content and applications.
AAPL's products and services include the iPhone, iPad, Mac, iPod, Apple TV, iCloud, and the iOS and OS X operating systems. AAPL also sells and delivers digital content and applications through the iTunes Store, App Store, iBooks Store, and Mac App Store.

Carl Icahn believes that AAPL's stock should trade higher
In a recent statement, activist investor Carl Icahn said that AAPL's stock is dramatically undervalued. It's actually trading at half its intrinsic value. He believes that AAPL's stock should be trading at ~$203. This is much higher than the current stock price of $98.
For more on Icahn's views, read Why Carl Icahn thinks Apple stock is dramatically undervalued.
After Icahn's nudging, AAPL boosted its share buyback program. AAPL repurchased $17 billion shares in 3Q14.

Article continues below advertisement
AAPL unveils new products
AAPL released iOS 8.1.1 for the iPhone, iPad, and iPod to make the old devices faster.
On December 10, AAPL and IBM (IBM) delivered the first wave of IBM MobileFirst for iOS solutions in a new class of made-for-business apps.
AAPL unveiled new products at its September event. The new products included two new handsets—the iPhone 6 and the iPhone 6 Plus. AAPL's other new product was the Apple Watch. The watch will be available in early 2015.
The company also plans to launch a new payments solution—Apple Pay. It's expected to be an alternative for physical wallets, credit cards, and other mobile payment services.

Strong sales drove fourth quarter revenue and earnings
The company posted quarterly revenue of $42.1 billion. Its quarterly net profit was $8.5 billion. This represents $1.42 per diluted share. In comparison, AAPL reported revenue of $37.5 billion and net profit of $7.5 billion, or $1.18 per diluted share, in the same quarter last year.
AAPL's CEO, Tim Cook, added that "Our fiscal 2014 was one for the record books, including the biggest iPhone launch ever with iPhone 6 and iPhone 6 Plus, with amazing innovations in our new iPhones, iPads and Macs, as well as iOS 8 and OS X Yosemite, we are heading into the holidays with Apple's strongest product lineup ever. We are also incredibly excited about Apple Watch and other great products and services in the pipeline for 2015."
Eminence Capital's other 3Q14 positions
During 3Q14, Eminence Capital also initiated new positions in GNC Holdings (GNC), McDonald's (MCD), Cognizant Technology Solutions (CTSH), and Zimmer Holdings Inc. (ZMH). It raised positions in TIBCO Software Inc. (TIBX) and CBS Outdoor Americas Inc. (CBSO). It sold its position in Ralph Lauren (RL). It decreased positions in National Oilwell Varco (NOV), Dollar General (DG), Cadence Design Systems, Inc. (CDNS), Kar Auction Services, Inc. (KAR), and VCA Antech, Inc. (WOOF).
The next part of this series will explore Eminence Capital's position change in MCD.