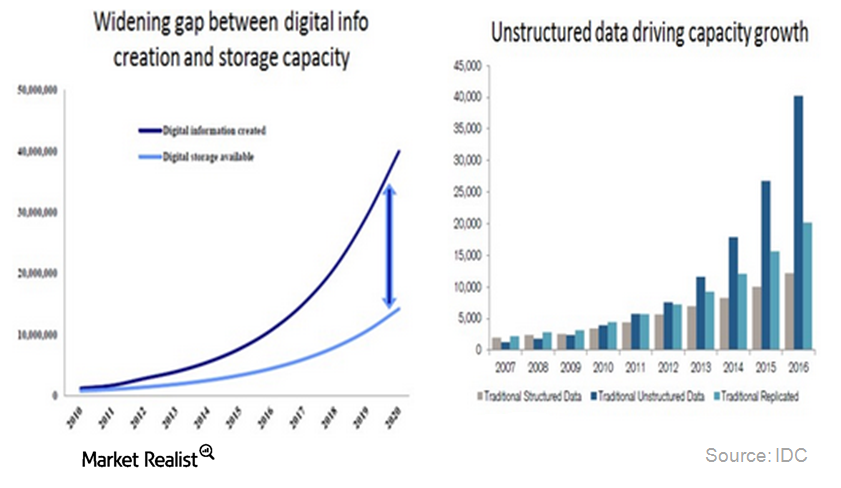 Where is EMC in today's rapidly evolving big data landscape?
By Anne Shields

Dec. 19 2014, Updated 3:10 p.m. ET
EMC has a strong position in big data landscape
The current IT environment is grappling under the sheer volume, variety, and velocity of data generation owing to the SMAC (social, mobile, analytics and cloud) revolution. As the below presentation shows, rise of "unstructured" data, like emails, photos, videos, business documents, pose a significant challenge.
Technology players are thus utilizing machine learning-based analytics and funds are moving from traditional infrastructure to applications. This shift from hardware to software has impacted legacy systems vendors like IBM (IBM), Oracle (ORCL), HP (HPQ), and Dell. Cisco (CSCO) is reeling under the challenges posed from software-defined networks (or SDNs). Though EMC (EMC) is a leader in the storage market, the company has diversified its portfolio, as the below presentation shows.
Article continues below advertisement
EMC has diversified portfolio through equity interests in VMware and Pivotal
EMC has one of the broadest storage portfolios with emerging storage technologies such as Network-Attached Storage (or NAS) and flash-based storage architecture. Through ownership interests in VMware and Pivotal of 80% and 62%, respectively, EMC offers competitive technologies like server virtualization or cloud storage and PaaS, respectively.
Strong presence in storage market
IDC stated that EMC commands more than 30% market share in the global storage hardware segment. EMC also has a large presence in data centers. It owns 80% of server virtualization company VMware.
Offerings provide smooth transition to third platform
EMC's elastic cloud storage, software-defined storage ViPR, and Hadoop capability Isilon with HDFS have shown increased adoption owing to the emergence of SMAC and the shift to the third platform, which combines social, mobile, and big data or analytics.