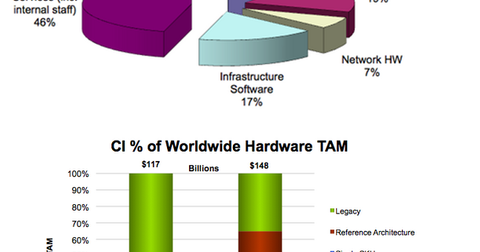 Why EMC is targeting converged infrastructure
By Anne Shields

Dec. 17 2014, Updated 4:40 p.m. ET
VCE leads the integrated infrastructure market
EMC (EMC) created VCE with a vision of disrupting the IT environment by radically transforming and simplifying IT data center architectures, thereby accelerating a shift to cloud computing. Both Gartner and the International Data Corporation announced VCE as the leader in converged infrastructure or integrated infrastructure systems.
In early 2014, VCE was positioned as a leader in the Gartner's Converged Infrastructure Magic Quadrant. VCE was selected based on an evaluation of its completeness of vision and ability to execute.
Article continues below advertisement
According to Wikibon, converged infrastructure (or CI) is an integrated set of compute, storage, and networking components with infrastructure management software that provides a single logical chunk of hardware and software that is either specifically engineered together or tested and proven in a plethora of configurations and applications. CI simplifies hardware and software management, thus speeding up the deployment of infrastructure for private clouds.
Leading technology players are in competition to have a slice of the CI space
The above chart shows that converged infrastructure is expected to be a $402 billion total available market by 2017. Leading technology and infrastructure players HP (HPQ), IBM (IBM), Oracle (ORCL), Dell, Cisco (CSCO), EMC (EMC), NetApp, VMware, and VCE are moving towards the converged space either to gain market share or protect their turf.
Leading technology players have taken the following steps to bolster their presence in today's converged infrastructure marketplace:
HP has tried to bundle and bolster its Procurve switching and 3PAR storage lines with Blade Matrix
EMC leads the storage market space. Through VCE, it aligned its operations with Cisco on Vblocks
Cisco, who dominates the networking space, tried to extend this leadership to drive Unified Computing System (or UCS) adoption with Vblocks. The company also aimed to attach to non-compute affiliated storage vendors with NetApp FlexPod and EMC VSPEX
IBM used its System p and System i install base to drive its x86 compute offerings
Oracle database has a huge customer base. To leverage this huge customer base, it attempted to target the third party infrastructure manufacturers that run critical systems through its Exa systems