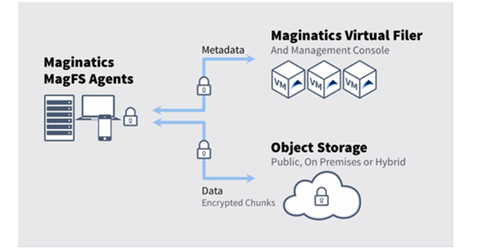 EMC adds Maginatics to its string of cloud acquisitions
By Anne Shields

Dec. 18 2014, Updated 4:39 p.m. ET
EMC acquired Maginatics
In October 2014, EMC (EMC) furthered its acquisitions strategy by acquiring Maginatics. Maginatics, a provider of data protection across clouds, is EMC's latest acquisition in the cloud space, along with recently acquired Cloudscaling and Spanning.
Maginatics has a filer cloud storage gateway, Maginatics Virtual Filer (or MVF), packaged as a virtual appliance. This means that the software can be located on a user's premises, in a co-location/hosting center or the cloud.
Article continues below advertisement
Up to 10 MVFs can be present in a cluster that can manage up to 14.4 petabytes (or PB) of file data. Among all MVFs, one of them can be nominated as the management console. Through it, a user can create, edit, delete, and monitor shares and the virtual machines (or VMs) that power them from a single pane of glass.
The MVF and MagFS agents together form a Maginatics Cloud Services Platform (or MCSP). Maginatics was founded in 2010 and has raised $27 million to date. VMware (VMW), Intel Capital, WestSummit Capital, Comcast Ventures, and Atlantic Bridge have funded this venture.
Diverse operating systems are supported by MagFS
Maginatics provides native agents, MagFS agents, for diverse operating systems (or OS) that include Microsoft (MSFT) Windows, Apple (AAPL) Mac OS X, Linux, iOS, and Google (GOOGL) Android. Maginatics also supports endpoint devices, including mobile phones, tablets, laptops, servers, and virtual machines.
By enabling endpoint devices to communicate directly with the cloud and MVF over their own secure connection, MCSP delivers a distributed architecture that claims to remove the bottlenecks associated with legacy or emerging technologies based on monolithic appliances.
EMC intends to expand its cloud data protection strategy with Maginatics
Through the Maginatics acquisition, EMC aims to extend its cloud data protection strategy by enabling unified data protection and management across disparate private, public, and hybrid clouds. It intends to facilitate efficient data mobility across multiple clouds with data deduplication, WAN optimization, handling of large objects and multi-threading.