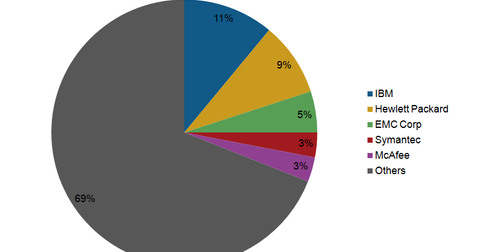 EMC acquires Spanning to increase its focus in data security
By Anne Shields

Updated
EMC acquires another cloud player
In October 2014, EMC (EMC) announced another strategic acquisition of Spanning Cloud Apps Inc. Spanning was founded in 2010. It received financing from the Foundry Group before EMC acquired it.
Spanning provides cloud-to-cloud data protection technology and offers a backup service for cloud applications. For example, if customers use Google, but want a copy of their Google data to be stored separately from the core Google infrastructure, Spanning stores the data separately from Google infrastructure. Spanning uses a separate infrastructure for backups, so if Google goes down, customers can still access their data from Amazon's (AMZN) Amazon web services (or AWS) environment.
The Spanning backup product provides full data recovery for the complete Google (GOOG) (GOOGL) Apps suite: Gmail, Drive, Sites, Calendar and Contacts.
Article continues below advertisement
IBM Corp. (IBM) holds the largest market share in the global data security market at 11%, followed by Hewlett Packard (HPQ) at 9% and EMC at 3%. According to the International Data Corporation, EMC held a 15.1% share of the total worldwide data protection and recovery software market in 2013. It was worth $851 million.
How Spanning fits into EMC's portfolio
Usually cloud vendors like Google and Microsoft (MSFT) have their own data protection capabilities. Spanning offers more than data protection, including easy file restoration and data restoration.
According to Russ Stockdale, EMC's VP Cloud apps are becoming more commonplace within the workplace. These apps create critical data that is often beyond the purview and reach of traditional data protection strategies. Spanning offers solutions that mitigate the risk of data loss either from user error, hackers or system error, and thus improves business efficiency. EMC, being a leading player, in the data security market will benefit from Spanning's offering.