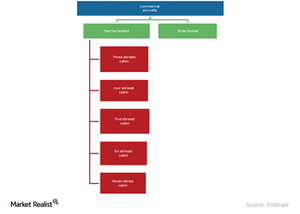 Embraer's commercial aircraft families
By Ally Schmidt

Dec. 24 2014, Updated 6:59 a.m. ET
Narrow-bodied versus wide-bodied aircraft
In this article, we'll look at the various types of commercial aircraft. The commercial aircraft industry can be roughly divided into the following two segments: narrow-bodied aircraft and wide-bodied aircraft.
A narrow-bodied or single-aisle aircraft is an airliner with a typical width of 3 to 4 meters. The airline's seats are arranged two to six abreast with a single aisle. These aircraft are commonly known as regional airliners and are used within the range of a country or continent.
A wide-bodied or twin-aisle aircraft is an airliner that's wide enough to accommodate two passenger aisles with seven or more seats abreast. These aircraft are used for moving passengers and cargo throughout the world. The larger ones are known as jumbo jets.
Article continues below advertisement
Embraer's commercial aviation family
Embraer's commercial aircraft family of jets caters to the narrow-bodied segment. The company's ERJ 145 family and EMB 120 Brasilia jets belong to the three-abreast cabin subsegment. The company's E-Jet family belongs to the four-abreast cabin subsegment. Now let's look at the company's fleet in detail.
Embraer ERJ family. The ERJ family consists of ERJ 135, ERJ 140, ERJ 145, and ERJ 145 XR, which have 37 to 50 seats and use the Rolls-Royce AE3007 engine. Each jet in the series is powered by two turbofan engines. The family's primary competition comes from the Bombardier (BDRBF) CRJ regional jets and Airbus (EADSY).
Embraer EMB 120 Brasilia. The EMB 120 Brasilia is a twin-turboprop commuter airliner that can seat about 30 passengers. Its various models, such as the EMB 120, EMB 120ER, EMB 120FC, EMB 120QC, and EMB 120RT, are used to move passengers as well as cargo. The VC-97 is used by various military forces.
Embraer E-Jet family. The E-Jet series features twin engines by General Electric (GE), which is a part of iShares U.S. Industrials ETF (IYJ), and has from 70 to 124 seats. The jets have four-abreast seating and a double-bubble design. The E-Jet family's business variant, Embraer Lineage 1000, has luxury seating for up to 19 people. The company's E2jet family is an extension of the E-Jet family with the new TurboFan engines.
In the next article, we'll look at Embraer's (ERJ) largest business segment: commercial aviation.