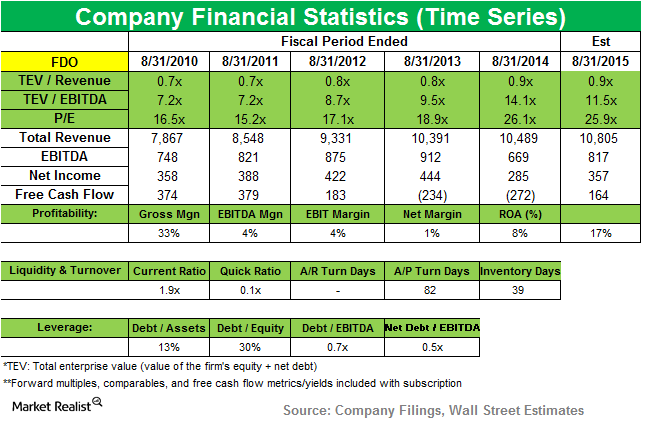 Elliott takes activist stake in Family Dollar Stores
By Samantha Nielson

Dec. 16 2014, Published 3:48 p.m. ET
Elliott Management and Family Dollar Stores
Elliott Management took a new position in Family Dollar Stores (FDO) during the third quarter that ended in September. The position accounts for 2.90% of the fund's 3Q14 portfolio. An October letter revealed the fund owns a 4.9% stake in FDO.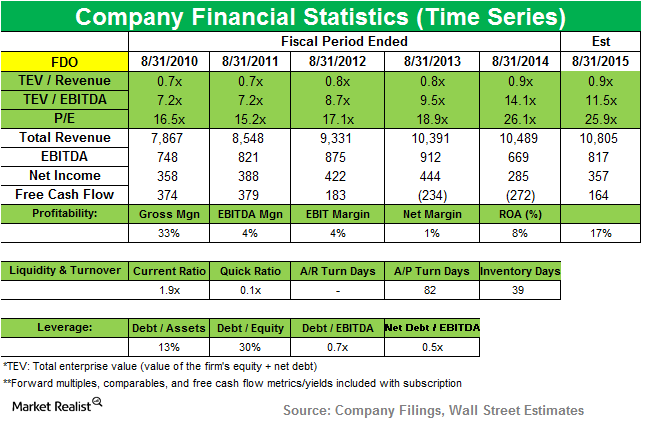 Elliott Management recently filed a 13D on Family Dollar Stores, indicating an activist interest. The December 11 filing revealed the fund owns 7,722,525 shares, representing around a 6.8% stake in FDO. JANA Partners and Carl Icahn also made 13D filings with respect to FDO.
Article continues below advertisement
Overview of FDO
Family Dollar operates a chain of more than 8,100 stores in 46 states. It sells all of its products for less than $10. The company is investing more than $50 million annually to lower the prices of nearly 1,000 stocking keeping units, or SKUs, to be more competitive in the discount retailing market. It introduced tobacco in its stores and is planning to begin a multiyear rollout of beer and wine in 2015.
DLTR to acquire FDO
In July, DLTR announced a $8.5 billion acquisition of FDO. FDO is a leading national discount retailer. While both companies' boards approved the deal, in November FDO delayed a shareholder vote on the DLTR offer until December 23.
The merger is being reviewed by the FTC (Federal Trade Commission). The FTC indicated that some divestitures will be required for an approval. DLTR said it might have to divest fewer than 500 stores to complete the acquisition of FDO. It said it "does not expect any such divestiture to have a material impact on its plans for the combined organization." The merger is expected to close by February 2015.
Article continues below advertisement
Dollar General committed to acquiring FDO
FDO is also being pursued by leading discount chain Dollar General Corp. (DG). DG's two bids were rejected by FDO over antitrust considerations. On October 1, DG announced that it started a tender offer to acquire all of FDO's outstanding shares for $80 per share in cash. This offer was extended to December 31. Recently, DG said it "remains committed to acquiring Family Dollar."
In a statement on DG's competing offer, DLTR said that it believes that the FTC may require divestitures in excess of the 1,500 stores that DG offered to divest in its tender offer for FDO.
Elliott Management believes Dollar General's offer is superior
In October 2014, Elliott Advisors UK Limited disclosed a 4.9% stake in Family Dollar and said in a letter that Family Dollar should "provide Dollar General…with an even playing field in its continuing efforts to acquire the company at price levels that are clearly superior" to those being offered by Dollar Tree. It also said it nominated "a slate of seven highly qualified candidates" for election to Family Dollar Stores' board.
Elliott's notable positions in 3Q14
The fund's new holdings in the quarter include Family Dollar Stores (FDO), Time Warner Cable (TWC), and VMware, Inc. (VMW). It raised its positions in EMC Corp (EMC), 21st Century Fox (FOX), Interpublic Group of Companies (IPG), and Brazilian telecom company Oi (OIBR). Significant exits were Mallinckrodt Plc (MNK) and Allergan Inc (AGN), while the fund reduced its stake in Juniper Networks (JNPR) was lowered.
The next part of this series will highlight the fund's position in Time Warner Cable (TWC).