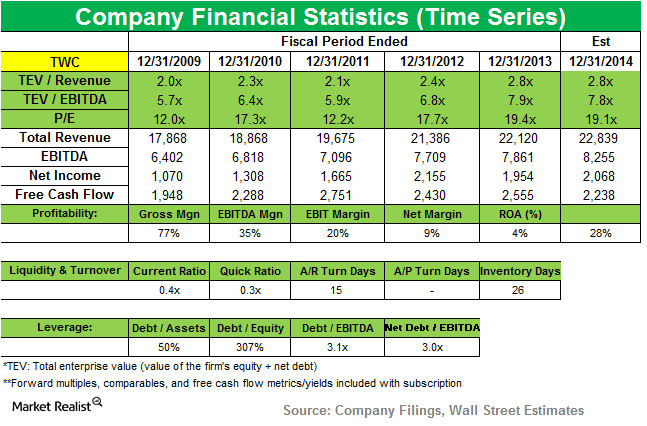 Elliott starts new position in Time Warner Cable
By Samantha Nielson

Dec. 17 2014, Updated 9:43 a.m. ET
Elliott Management and Time Warner Cable
Elliott took a new position in Time Warner Cable (TWC) during the third quarter that ended in September 2014. The position accounts for 1.89% of the fund's 3Q14 portfolio. Paulson & Co. also raised its position in Time Warner Cable during the third quarter.
Article continues below advertisement
Overview of Time Warner Cable
Time Warner Cable, or TWC, is among the largest providers of video, high-speed data, and voice services in the US. As of September 30, 2014, TWC served approximately 15.1 million customers who subscribe to one or more of its video, high-speed data, and voice services.
TWC's reportable segments
Residential Services: TWC offers video, high-speed data, and voice services, as well as security and home management services to residential customers.
Business Services: TWC offers a wide range of business high-speed data, networking, voice, video, hosting, and cloud computing services.
Other Operations: These principally consist of advertising revenue, fees from distributors of the Lakers' regional sports networks, and home shopping network-related revenue. This includes commissions earned on the sale of merchandise and carriage fees.
Since 2014, TWC has acted as the exclusive advertising and affiliate sales agent with respect to SportsNet LA. TWC also has certain branding and programming rights related to this regional sports network that carries the Los Angeles Dodgers' baseball games and other sports programming. The network was launched by American Media Productions.
Article continues below advertisement
Comcast, TWC merger awaiting regulatory approval
In February 2014, Comcast agreed to buy TWC for ~$45.2 billion. This deal would create the largest cable provider in the US, with more than 33 million subscribers. The US Department of Justice and the Federal Communications Commission (or FCC) are scrutinizing the deal. In order to win approval for the merger and keep its market share below 30%, Comcast forged a complex deal with Charter Communications in April.
On October 9, 2014, Time Warner announced that its shareholders approved the Comcast merger, with over 99% of votes cast in favor of the deal.
The FCC's new timeline noted that responses to opposition comments on the merger can be filed until December 23. The merger has seen opposition from companies including Dish Network, Netflix, and Discovery. The deal is expected to close in early 2015.
3Q14 results miss estimates
TWC's latest 3Q14 results missed on revenue and earnings estimates. Net income declined 6% to $499 million, or $1.76 a share, from $532 million, or $1.84 a share, in the same quarter last year. Revenue grew 3.6% year-over-year driven by business services and residential high-speed data revenue. TWC saw higher operating costs due to increased programming and content costs associated with SportsNet LA and third-party programming costs in the residential services segment.
For 3Q14, residential services revenue increased as a result of an increase in high-speed data revenue, but it was partially offset by decreases in video and voice revenue. The company lost 184,000 residential video customers in the third quarter, compared with a loss of 306,000 a year ago.
Elliott's notable positions in 3Q14
The fund's new holdings in the quarter include Family Dollar Stores (FDO), Time Warner Cable (TWC), and VMware, Inc. (VMW). It raised its positions in EMC Corp (EMC), Interpublic Group of Companies (IPG), 21st Century Fox (FOX), and Brazilian telecom firm Oi (OIBR). Notable exits were Mallinckrodt Plc (MNK) and Allergan, Inc. (AGN), and a stake in Juniper Networks (JNPR) was lowered.
The next part of this series will highlight the fund's position in VMware Inc (VMW).