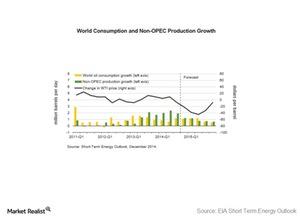 EIA expects non-OPEC countries to grow faster than OPEC countries
By Alex Chamberlin

Dec. 22 2014, Updated 2:27 p.m. ET
Non-OPEC production to rise faster than OPEC production
In the previous parts of this series, we discussed U.S. Energy Information Administration's (or EIA) energy production and consumption estimates and oil and gas production in the key US shales. In this article, we'll try to find out why the Organization of the Petroleum Exporting Countries (or OPEC) still plays a driver's role in setting crude oil price.
According to EIA estimates, petroleum and other liquids production in non-OPEC countries will grow by approximately 1.9 million barrels per day (or MMbbl/d) in 2014 and 0.8 MMBbl/d in 2015. While 2014 estimates remain almost unchanged from the previous month, the 2015 estimate is lower by 0.14MMBbl/d. In 2013, non-OPEC countries produced 54.12 MMBbl/d.
Total world petroleum and other liquids production averaged 90.15 MMBbl/d in 2013. The EIA expects production to increase to 91.96 MMBbl/d in 2014 and 92.75 MMBbl/d in 2015. The United States will account for most of the growth.
The Eurasian block is the largest oil producer outside the United States and OPEC countries, generating 13.55 MMBbl/d or 15% of 2013 crude production. The EIA estimates that Eurasia's production will rise by an annual average of 0.4% in 2014 before falling marginally by 0.2% in 2015.
Article continues below advertisement
OPEC production to slow down
The EIA expects OPEC crude oil production to fall by 0.2 million bbl/d in 2014 and by more than 0.4 million bbl/d in 2015 from the 2013 level. In 2013, OPEC crude oil production averaged 29.9 MMBbl/d.
Higher production in non‐OPEC countries will slow down OPEC production in 2014 and 2015. OPEC accounted for 40% of total world crude oil supply in 2013.
OPEC has 12 member countries, including Islamic Republic of Iran, Iraq, Kuwait, Saudi Arabia, Venezuela, Qatar, Libya, the United Arab Emirates, Algeria, Nigeria, Ecuador, and Angola.
Exxon Mobil (XOM), BP Plc (BP), Royal Dutch Shell (RDS.A), and Chevron Corporation (CVX) are some of the energy majors that operate in oil fields around the world. Changes in oil consumption and production will also affect these companies. Some of these are components of the Energy Select Sector SPDR ETF (XLE).
To know how international crude prices have moved in recent times, read the next part of this series.