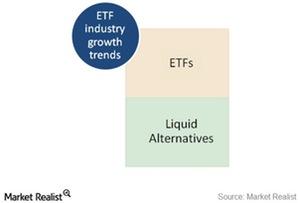 Drew Lawton identifies two key growth trends in ETF industry
By Surbhi Jain

Updated
Key growth trends in ETF space
Drew Lawton, CEO of New York Life Investment Management, identified two important growth trends in the ETF industry, seeing growth in ETFs and liquid alternatives.
Article continues below advertisement
ETF industry's immense growth potential
The growing popularity and size of the ETF industry is attributable to the shift in investor preference for exchange-traded funds (or ETFs) over mutual funds. According to a report released by Deutsche Bank (DB) on January 16, 2014, global ETF assets grew 28.2% in 2013—crossing the $2.3 trillion mark.
The US market, which is tracked by ETFs such as the SPDR S&P 500 ETF (SPY), the iShares Russell 2000 Index Fund (IWM), and the Vanguard S&P 500 ETF (VOO), commands roughly 72% of global ETF assets and leads overall growth in the industry.
We provided you with a complete overview of the US ETF market in our series A must-know overview of ETF investments in the US. You can also read Why Wall Street's biggest banks are entering the ETF space for our analysis on new entrants in the ETF space.
Growth of alternative investments
Lawton sees enough growth potential in the alternative investments segment, specifically in liquid alternatives. Liquid alternatives seek to mimic strategies used by hedge funds while letting clients invest or withdraw money daily. However, these funds remain exposed to certain amount of risk, so investors should exercise due caution when investing in them. As these funds require sub-advisers, it becomes imperative for investors to focus carefully on the sub-adviser's suitability and experience.
In the past, New York Life's MainStay Marketfield Fund has been one of the biggest beneficiaries of demand for these products.
However, so far this year, the Marketfield Fund declined 11%, while the S&P 500 Index is up 12%. Adam Patti, co-founder and CEO of IndexIQ, noted, "Hedge funds are never going to beat the S&P 500 in a roaring bull market. They're going to provide much lower volatility and downside protection."
Given the uncertainties in the macro environment, the growth of alternative investments is a given.