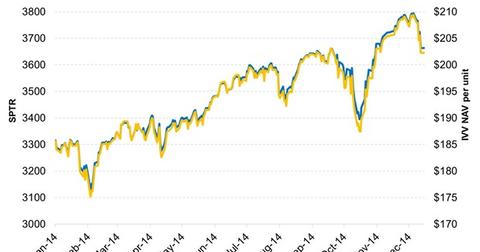 Determining The Underlying Value Of Equity And Bond ETFs
By Matt Tucker, CFA

Dec. 22 2014, Updated 12:14 p.m. ET
How they calculate underlying value 
Another key difference between bond ETFs and equity ETFs is the way that they calculate underlying value.  Since stocks trade on an exchange, the public can see each stock's current price at any point during market hours, as well as a closing price at market close.  ETF providers use stocks' prices to calculate an ETF's intraday underlying value throughout the trading day, and the closing net asset value (NAV) of an equity ETF is typically very close to the ETF's closing price.
Article continues below advertisement
 Market Realist – How the ETF's underlying value is calculated
The above chart compares the NAV (net asset value) of the iShares Core S&P 500 ETF (IVV) with the index level of the S&P 500 Total Returns Index, or SPTR. The ETF's underlying value is calculated using the NAV. The NAV is the sum total of all the holdings in an ETF divided by the number of its shares outstanding.
The SPTR is a total return index, which means that it tracks the capital gains of the group of large-cap US stocks (SPY) that it contains. At the same time, it also assumes that dividends and any other cash distributions from those stocks get reinvested in the index.
As the underlying index fluctuates during a trading session, so does the NAV of the ETF that tracks the index. Equities provide an advantage because they are traded on an exchange. This ensures that prices are transparent.
But the same can't be said about bond ETFs. That's because most bonds are traded over-the-counter and not on an exchange. So, price discovery isn't as easy as it is for equities.
Some of the popular bond ETFs are the iShares Barclays Aggregate Bond Fund (AGG), the Vanguard Total Bond Market ETF (BND), and the iShares IBoxx $ Investment Grade Corporate Bond Fund (LQD).