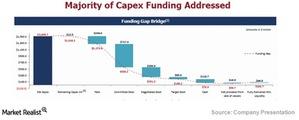 Depreciation expense increases; Star Bulk addresses capex fund
Star Bulk's depreciation and interest costs
Star Bulk Carriers Corp.'s (SBLK) depreciation expense increased to $10.7 million for the third quarter of 2014, compared to $4.0 million for the third quarter of 2013. The increase was due to the increase in the company's average number of vessels in its fleet and the corresponding increase in the depreciable asset base.
Interest and finance costs for the third quarter of 2014 stood at $1.5 million compared to $1.7 million in the third quarter of 2013. The weighted average balance of outstanding indebtedness increased to $481.5 million for the third quarter of 2014 compared to $195.8 million for the third quarter of 2013. However, interest and finance costs decreased to $3.1 million from $0.1 million for the same period of 2013 due to an increase in interest capitalized during the quarter, which was caused mainly by an increase in advances paid for Star Bulk's newbuilding vessels.
Article continues below advertisement
Capex fund addressed
The total constructed cost of Star Bulk's 35 vessels stands at 1.5 billion. Until the third quarter of 2014, the company recorded $12.5 million of cash to be paid to Excel Maritime for the delivery of the remaining vessels in exchange for equity in Excel. So far, Star Bulk has paid $244.6 million in the form of advance payments for the newbuilding vessels, while it has committed debt financing of $717.4 million.
Star Bulk is in the final stage of negotiating with lenders for another $305 million of debt financing. Assuming that 60% of debt financing is for the nonfinanced newbuilding vessels, then another $65 million of debt financing is estimated. Subtracting the total debt financing of 1.04 billion from the remaining capital expenditure (or capex) leaves a remaining capex figure of $186.2 million.
After adjustment for Star Bulk's cash on hand and expected cash inflow from refinancing, Star Bulk's equity capex graph is slightly higher than $102.7 million. Aneglo Gordon, a privately held registered investment adviser, has committed to the refinancing. This indicates a stable position given Star Bulk's size, visibility, and shareholder base. This amount is spread over a period of one and a half to two years, which provides time to select the best financing solution.
Star Bulk Carriers Corp. (SBLK) has industry (SEA) peers such as Diana Shipping Inc. (DSX), Knightsbridge Shipping Ltd (VLCCF), Navios Maritime Holdings Inc. (NM), and Eagle Bulk Shipping Inc. (EGLE).