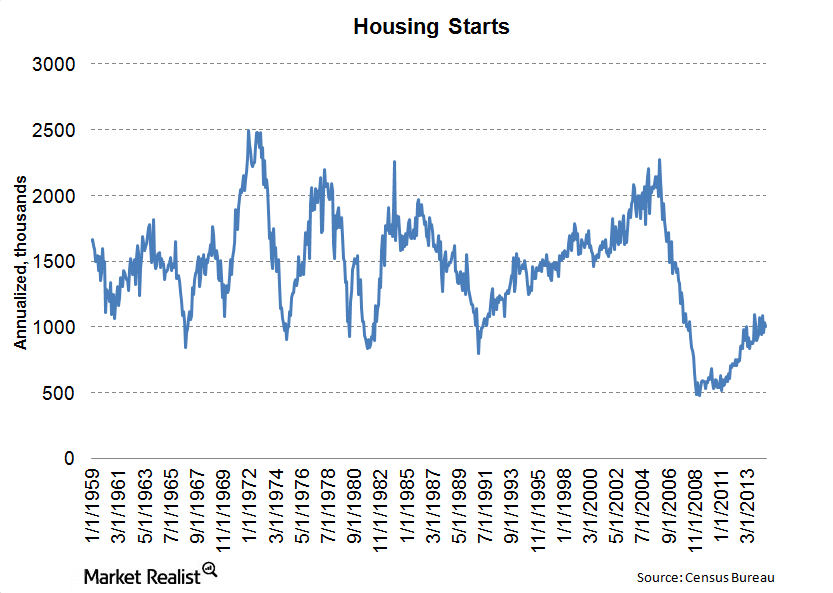 Declining energy prices may not be enough to maintain margins
Manufacturing activity's connection to homebuilding
Manufacturing activity is a good sign for job growth. Job growth has been the Achilles' heel of this recovery. Although manufacturing isn't the economic driver it used to be, it still matters. A manufacturing level that corresponds to 4.2% gross domestic product (or GDP) growth is certainly a positive indicator.
Article continues below advertisement
The secular story for homebuilders
Overall, increases in business activity and consumption are starting to drive more business for homebuilders—like D.R. Horton Inc. (DHI), Lennar Corporation (LEN), PulteGroup Inc. (PHM), and Toll Brothers Inc. (TOL). The secular or long-term historical chart above shows that housing starts have been so low for so long that there's significant pent-up demand. The demand will unleash as the economy improves. Increasing job growth in the manufacturing sector will begin to release the demand.
This can create a positive circle in the economy. It will create an optimistic secular story for homebuilders. Household formation numbers will provide additional support.
Investors who want to invest in the homebuilding sector as a whole should look at the SPDR S&P Homebuilders ETF (XHB).
Could margins contract going forward?
Comments from survey participants suggest that input prices are rising. However, prices aren't increasing. Fortunately for the builders, the price of lumber is down. However, skilled labor is in short supply. This labor shortage could be a blessing in disguise. Higher employment and wages will drive consumer confidence and growth. The best thing for homebuilders would be stronger job growth. We may be at the point where the builders will increase job growth in order to capture market share.
That said, the report noted a big decrease in prices. The decrease was mainly due to declining energy prices. While the builders aren't heavily exposed to energy prices, they aren't immune. For them, the biggest issue will be labor.
Article continues below advertisement
Most of the builders are reporting increases in average selling prices combined with decreased orders. Once prices have been pushed as far as they can go, the builders will be forced to push through volume to increase the top line. Judging by the decreased orders, they've reached that point already. This will lead to bigger discounts and probably lower margins. If margins haven't peaked yet for the builders, they're close.
Economically, such a leveling off would be fantastic news. Increasing building volume is exactly what the economy needs. The recovery has been subdued largely because homebuilding has been punching below its weight. If housing starts return to their historic level of 1.5 million, that would generate a lot of economic activity. This would be good for the builders. It would restart the virtuous cycle that we've been waiting for since 2009.