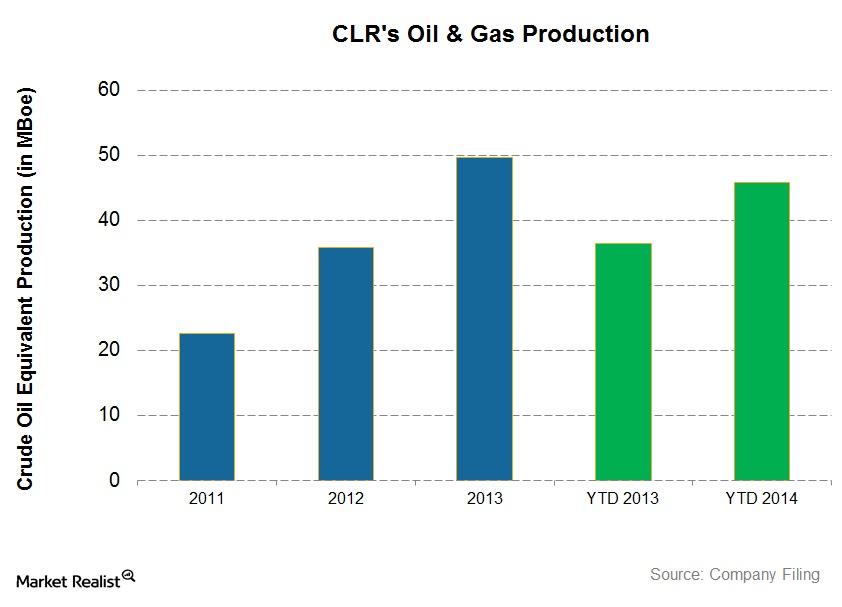 Continental Resources increases wells and production
By Alex Chamberlin

Aug. 18 2020, Updated 5:30 a.m. ET
Continental Resources' net wells increase
In the previous section, we discussed Continental Resources, Inc.'s (CLR) proved reserves and acreages held in some of the key basins in the United States. In this part, we'll discuss the number of wells Continental Resources has, which is a basic indicator of production and production volume over the years.
From 2011 to 2013, the number of Continental Resources' net wells has increased 68%, to 334. During the first nine months of 2014, the company spud ~300 net wells. Net wells are the sum of the fractional working interests owned in gross wells.
Net wells targeted at producing crude oil have surpassed natural gas wells by far. From 2011 to 2013, Continental Resources' crude oil net wells doubled to ~302. During the same period, natural gas net wells actually declined 39%, to ~29.
The rise in crude oil net wells can largely be attributed to Continental Resources' long-time strategy of increasing crude oil mix in its asset portfolio. Let us now look at whether Continental Resources' higher drilling has translated into higher production.
Article continues below advertisement
Production also rises
From 2011 to 2013, Continental Resources' total oil and natural gas production more than doubled. In 2013, it produced 49.6 million barrels of oil equivalent (or MMBoe) compared to 22.6 MMBoe in 2011. During the first nine months of 2014, the trend continued as production grew by 26% over the same period in 2013.
However, crude oil production growth has fallen behind natural gas production growth over the past few years. From 2011 to 2013, Continental Resources' natural gas production has increased 139% compared to 112% crude oil production growth.
During the ninth month of 2014, natural gas production growth was 31% versus 25% growth in crude oil.
Why production increased
The primary reason for Continental Resources' higher natural gas production is the company's recent focus on growing reserves in the South Central Oklahoma Oil Province (or SCOOP). That region has a higher concentration of liquids-rich natural gas compared to its other operating areas such as the Bakken. Read the first part of this series to better understand Continental Resources' portfolio.
In SCOOP and the Bakken shale, some of the other prominent upstream producers include Hess Corporation (HES), Marathon Oil Corporation (MRO), and Newfield Exploration (NFX). Some of these are components of Energy Select Sector Standard & Poors depositary receipt (or SPDR) exchange-traded fund (or ETF) (XLE).
Continental Resources (CLR) released its 3Q14 financial results on November 5, 2014. Read the following sections for details on this.