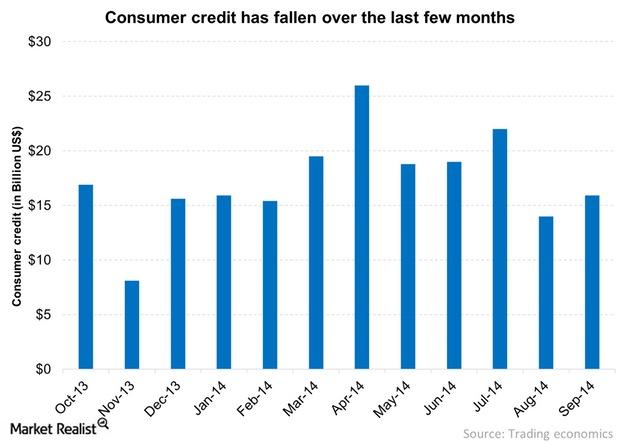 Consumer Debt Isn't Fueling Consumption
As I write in my new weekly commentary, there are three reasons why personal spending is likely to remain muted in the foreseeable future.
Article continues below advertisement
1. Consumer debt is no longer fueling consumption.
Consumers are still struggling to pay down their debts and credit availability is limited. Debt helped power consumption for four consecutive decades and, without it, consumers have relatively shallow pockets.
Market Realist – Low consumer debt affected consumption.
Consumer debt is the amount of credit consumers use to purchase goods or services for consumption. This includes loans taken to purchase consumer discretionary (XLY) items—like automobiles and televisions. For example, it includes loans taken to purchase cellular phones produced by Apple (AAPL). However, it doesn't include loans taken to purchase real estate.
The graph above shows consumer debt over the last 12 months. As you can see in the graph, consumer debt growth has been mild. In fact, it has been decreasing over the last few months. Consumer debt is pivotal in fueling consumption.
Low wage growth affected consumers' ability to pay off their debts. Lower consumer debt could affect banks' (XLF) top line. However, interest rates remained low. This supports consumer debt.
If consumption continues to be a drag on the US gross domestic product. or GDP, it will negatively impact the equity markets (SPY)(IVV).
The next part of this series explains another factor that put downward pressure on consumption.