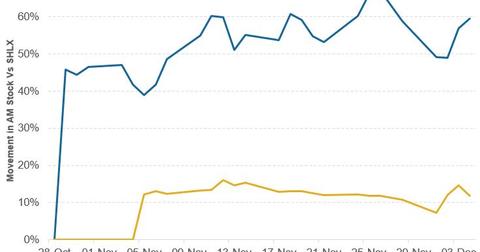 Comparing the Antero Midstream IPO with the Shell Midstream IPO
By Keisha Bandz

Updated
Antero versus Shell
The Antero IPO came just a week after the Shell Midstream IPO. Shell Midstream (SHLX) was the largest MLP IPO until Antero Midstream came barreling in to set a record of its own.
Antero Midstream (AM), which raised $1.15 billion, broke Shell Midstream's record of $1.06 billion. Therefore, Antero officially became the biggest ever MLP IPO. Read Part 1 of this series for more information about the Antero IPO.
Article continues below advertisement
Antero's stock reaction
Antero stock rose 12% on the day of its debut, from $25 to $28 per share. Although the double-digit increase was positive for AM investors, in comparison to Shell Midstream's stock prices, this increase is significantly less than the 45% increase Shell Midstream saw on the first day of its trading.
What Antero Midstream and Shell Midstream have in common
Both Antero and Shell have a deep-pocketed parent company, Antero Resources (AR) and Royal Dutch Shell (RDS-A). Both companies also have highly focused assets. Antero's assets are focused in the Marcellus and Utica Shale formations, while Shell Midstream owns crude oil pipelines strategically located along the Texas and Louisiana Gulf Coast and offshore Louisiana and Gulf of Mexico. Most of these pipelines service Louisiana refineries.
However, unlike Shell, which has multiple customers, Antero Midstream serves only Antero Resources under long-term, fixed-fee contracts. Therefore, Antero Midstream has only one source of revenue, which could prove to be risky if Antero Resources were to face production issues.
Comparing the yields
Like Shell Midstream, the yield for Antero Midstream is considerably low given its IPO price. Antero's yield stands at 2.72% while Shell's yield at its IPO was 2.8%. In contrast, the Alerian MLP Index (AMLP) was yielding around 6% in the first week of November, when the Antero IPO concluded.
The following part of this series talks about what features of these MLP companies make them attractive, despite the lower yield they seem to offer compared to some stocks.