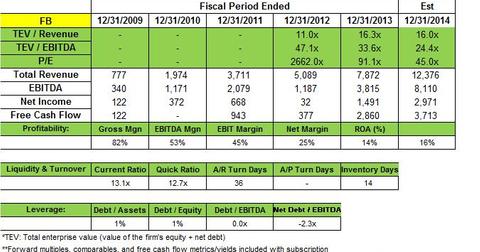 Coatue Management raises position in Facebook
By Patricia Garner

Dec. 5 2014, Updated 12:00 p.m. ET
Facebook position for Coatue
In 3Q14, Coatue Management added to its position in Facebook Inc. (FB). The stock accounted for 5.79% of the fund's portfolio for the quarter, which ended in September.
Article continues below advertisement
Stock declines after earnings announcement
Facebook's revenue for the third quarter of 2014 totaled $3.20 billion. This shows an increase of 59% from $2.02 billion in 3Q13.
Advertising revenue grew by 64% year-over-year. Mobile advertising revenue represented approximately 66% of advertising revenue for 3Q14, up from about 49% of advertising revenue in the third quarter of 2013. GAAP (or generally accepted accounting principles) net income for 3Q14 was up 90% compared to the third quarter of 2013.
Daily active users (or DAUs) grew by 19% year-over-year, while monthly active users (or MAUs) increased by 14% year-over-year. Mobile DAUs and mobile MAUs were up by 39% and 29% year-over-year, respectively.
Even though Facebook maintained strong revenue growth throughout the year, the stock declined by 7% on the day that the company announced its earnings. Investors were disappointed by the company's outlook, 4Q14 revenue growth, and increased operating expenses for 2015.
Management expects the company's total 4Q14 revenue to grow 40% to 47% in comparison to the revenue growth rate of 76% during the same quarter last year. Also, Facebook believes that its operating expenses will increase considerably next year due to the company's investments in a broad range of areas:
WhatsApp
Oculus VR
video
Internet.org
ad-tech initiatives
Article continues below advertisement
Atlas an important tool for Facebook
In October 2014, Facebook relaunched Atlas, the ad server that it bought from Microsoft Corporation (MSFT) last year. Facebook believes that Atlas will help advertisers improve online campaign measurement and achieve better investment returns by providing relevant ads to users.
Facebook derives the majority of its revenues from mobile traffic, so Atlas is an important tool for the company. Mobile revenue share has increased from 49% in 3Q13 to 66% in 3Q14.
Has the most-used app
Facebook continues to have the leading mobile app. According to a report from comScore, the number of unique visitors on the Facebook app was around 115 million in June 2014. Several Google apps rank next in terms of unique visits.
Article continues below advertisement
Facebook investing heavily to improve Instagram
Last year, Facebook acquired Instagram for $1 billion. During a recent conference call, Facebook's management said that the company is progressing well with Instagram. Facebook is making a substantial investment in Instagram to improve the speed and performance of the photo-sharing app on Android.
During the last quarter, Instagram launched the Hyperlapse app on Apple's (AAPL) iOS to capture high-quality videos even while in motion.
Other Coatue positions in 3Q14
Coatue Management's third-quarter 13F filing revealed new positions in Level 3 Communications Inc. (LVLT) and Zillow Inc. (Z). The fund sold its positions in Salesforce.com Inc. (CRM), 21Vianet Group Inc. (VNET), and Lululemon Athletica (LULU). Coatue also added to its positions in LinkedIn Corp. (LNKD), Baidu Inc. (BIDU), and eBay Inc. (EBAY). The fund reduced its stakes in Charter Communications (CHTR), Liberty Global plc (LBTYA), and CBS Corp. (CBS).
The next part of this series will highlight Coatue's reduced position in Charter Communications.