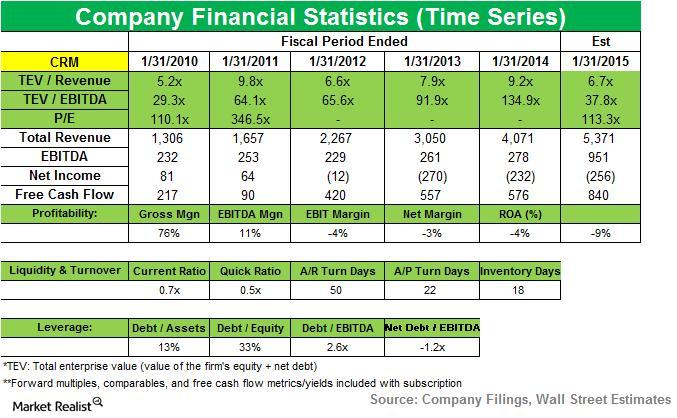 Coatue Management disposes position in Salesforce.com
By Patricia Garner

Dec. 3 2014, Updated 12:01 p.m. ET
Coatue Management and Salesforce.com
Coatue Management sold its position in Salesforce.com Inc. (CRM) during the third quarter of 2014. The stock accounted for 2.64% of the fund's portfolio in 2Q14.
Article continues below advertisement
Salesforce in brief
Salesforce.com offers customer relationship management (or CRM) services to businesses. The company also provides a technology platform on which customers and developers can build and run applications.
Revenue beats estimates
Despite a challenging currency environment, Salesforce exceeded 3Q14 revenue guidance by $14 million and non-GAAP (or generally accepted accounting principles) EPS (or earnings per share) guidance by $0.01. Deferred revenue was up 28% year-over-year in dollars and 31% in constant currency compared to the guidance of 30%. The non-GAAP operating margin was up 244 basis points year-over-year.
Third-quarter revenue was $1.38 billion, up 29% over last year. Excluding a year-over-year currency headwind of approximately $12 million, revenue was up 30%. Non-GAAP EPS for the quarter was $0.14.
On a year-over-year regional basis, revenue grew in the Americas by 29%. In EMEA (Europe, the Middle East, and Africa), revenue increased by 30% in dollars and 34% in constant currency. Also, Asia Pacific revenue saw growth of 21% in dollars and 25% in constant currency.
Non-GAAP gross margin was down during the third quarter due to continued investment in the infrastructure, including international data center expansion.
Here are some other third-quarter revenue figures for Salesforce:
Sales Cloud: $625 million
Service Cloud: $340 million
Salesforce1 platform and others: $192 million
Marketing Cloud: $132 million
Article continues below advertisement
Guidance for 4Q14 and full year 2015
Salesforce projects fourth fiscal quarter revenue of approximately $1.436 billion to $1.441 billion, which would be an increase of 25% to 26% year-over-year. The company expects GAAP loss per share to be in the range of ($0.10) to ($0.09). Salesforce anticipates diluted non-GAAP EPS in the range of $0.13 to $0.14.
The company projects full fiscal year 2015 revenue of about $5.365 billion to $5.370 billion, which would be an increase of 32% year-over-year. Salesforce expects GAAP loss per share to be in the range of ($0.42) to ($0.41). The company estimates diluted non-GAAP EPS in the range of $0.51 to $0.52.
Expands client relationships and adds new customers
Salesforce closed a larger number of deals in 3Q14 than in any previous third quarter in company history. The company established significant relationships with Anheuser-Busch InBev, Archer Daniels Midland, and Johnson & Johnson. Salesforce solidified existing relationships with customers like EMC Corporation, Hewlett-Packard, and Verizon. Also during this quarter, Salesforce signed on for newer, expanded relationships with the following companies:
Isuzu
L'Oreal
Merck
NBCUniversal
Office Depot
Symantec
Time Warner
Toyota
Article continues below advertisement
Growth of Salesforce Analytics Cloud
Since its launch, more than 45 partners have joined the company's Analytics Cloud ecosystem. Any custom analytics app can now include industry-specific customer intelligence from the world's leading information providers, including Dun & Bradstreet, Health Market Science, and Thomson Reuters. Also, new integration providers including Bluewolf, Capgemini, IBM WebSphere Cast Iron, and SnapLogic will enable companies to extend analytics for almost any business need.
Launches Salesforce1 Lightning Connect
Lightning Connect helps in the real-time integration of data stored in legacy back-office systems. The following integration vendors have built an extensive library of adaptors for Lightning Connect:
Informatica
Jitterbit
MuleSoft
Progress Software
SnapLogic
Software AG
The adaptors built by these companies make integration with Salesforce an easy process that requires only a few mouse clicks.
Coatue's other 3Q14 activities
Coatue Management's third-quarter 13F filing revealed new positions in Level 3 Communications Inc. (LVLT) and Zillow Inc. (Z). The fund sold its positions in 21Vianet Group Inc. (VNET) and Lululemon Athletica (LULU). Coatue also added to its positions in LinkedIn Corp. (LNKD), Baidu Inc. (BIDU), eBay Inc. (EBAY), and Facebook Inc. (FB). The fund reduced its stakes in Charter Communications (CHTR), Liberty Global plc (LBTYA), and CBS Corp. (CBS).
The next article in this series will highlight Coatue's exit from 21Vianet Group.