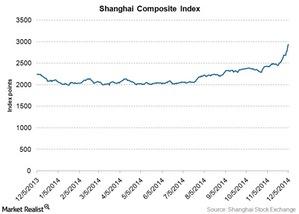 Chinese stock market is opening up to foreign investment
By Surbhi Jain

Dec. 9 2014, Published 10:47 a.m. ET
China has restricted foreign investment in the past
Up until now, China's stock market has restricted investments from foreign investors. The only Chinese stock exchange that international investors were permitted to purchase shares on has been the Hang Seng exchange in Hong Kong. It is for this reason that many of China's corporations incorporated their holding companies overseas.
A prominent example of this is the recent Alibaba IPO (initial public offering) on the NYSE (New York Stock Exchange) to list Alibaba Group Holding Limited (BABA), which is domiciled in the Cayman Islands. Market Realist's article Everything you need to know about Alibaba and its upcoming IPO gives more detail on the IPO.
Other Chinese companies that are already listed on the NYSE include China Mobile (CHL), PetroChina Co. Ltd. (PTR), and CNOOC Ltd. (CEO), among others. The iShares China Large-Cap ETF (FXI) is invested in these companies.
Article continues below advertisement
Foreign investments in China via 2 routes
Before, China's corporations had just two ways in which foreign investors could invest in them:
1. By purchasing shares listed on Hang Seng, known as H-shares
2. By purchasing shares in China's overseas-listed holding companies
China is now opening up its stock market
In an attempt to lure foreign capital and overhaul its economy, China is now ready to give investors much greater access to its stock market. On November 17, China took its first step towards opening up its stock market to foreign investment with the Shanghai-Hong Kong Stock Connect program.