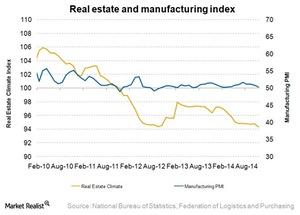 How China's slow real estate markets hurt the shipping industry
By Katie Dale

Updated
China's real estate sector
Accounting for almost 20% of gross domestic product (or GDP), China's real estate sector plays a major role in the country's economic activity. Historically, any change in real estate activity has corresponded to a similar overall economic trend.
Steel is a key material for construction. Therefore, China's real estate activity has a direct relationship with shipping demand, because iron ore and coking coal are the components necessary for making steel.
Article continues below advertisement
November climate index
China's National Bureau of Statistics developed the composite index in order to measure the aggregate business activity for land, capital, and sales of real estate. China's real estate climate index in November stood at 94 lower than 96 recorded in November 2013 and 95 recorded in October 2014. Figures above 100 show prosperity or economic growth, whereas figures below 100 mark depression.
November housing sales
For the month of November, the National Bureau of Statistics data revealed that housing sales stood at 633.7 billion renminbi, a decrease of 12% from a year ago, partly due to a high base effect. However, on a month-over-month basis, November sales recorded an 8.2% increase. China's housing sales picked up in November from October as the recent cut in interest rates and loosening of mortgage rules buoyed some demand from homebuyers anticipating a recovery in prices.
For the first 11 months of the year, housing sales declined 9.7% to $856 billion compared to a 39.9% dip in sales in the first ten months from a year earlier. Housing sales in the January to November period surged 31% from a year earlier.
New construction starts in the January to November period by area fell 9% to 1.65 billion square meters. This is compared to a decline of 5.5% to 1.48 billion square meters in the first ten months.
The poor real estate market is a negative for dry bulk shipping companies like DryShips Inc. (DRYS), Diana Shipping Inc. (DSX), Knightsbridge Tankers Ltd. (VLCCF), Navios Maritime Partners LP (NMM), Eagle Bulk Shipping Inc. (EGLE), and the Guggenheim Shipping ETF (SEA).