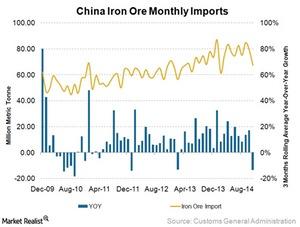 Why China's iron ore and coal imports declined
By Katie Dale

Dec. 4 2020, Updated 10:42 a.m. ET
Importance of iron ore and coal imports
China is the world's top iron ore and coal consumer. China imports almost 60% of the world's seaborne iron ore while its coal trade accounts for almost a quarter of the global trade. In 2013, China imported 820 million tonnes of iron ore and 330 million tonnes of coal. Both iron ore and coal account for nearly 30% each of the world's dry bulk trade volume.
The Guggenheim Shipping ETF (SEA) or dry bulk shippers such as DryShips Inc. (DRYS), Diana Shipping Inc. (DSX), Navios Maritime Holdings Inc. (NM), and Safe Bulkers Inc. (SB) that haul key dry bulk materials such as iron ore, coal, and grain across the ocean have a direct correlation with the commodity imports data.
Article continues below advertisement
Iron ore imports
The General Administration of Customs reported that China's iron ore imports fell 13.4% in November from a year earlier, to 67.4 million metric tonnes. Imports were down 15.1% month-over-month in October. In the 11 months ended November 30, China imported 845.77 million tonnes of iron ore, up 13.4% from a year earlier.
Coal imports
Data from the General Administration of Customs indicated that compared with a month earlier, coal imports climbed 4.5% to 21.03 million tonnes. Chinese coal miners, led by top producer Shenhua Group, have been raising domestic spot prices since September.
China's November coal imports dropped 26% from a year earlier as users were forced to cut shipments after Beijing reinstated import tariffs in October, but imports unexpectedly rose due to higher domestic spot prices.