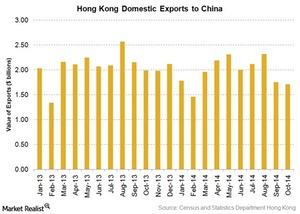 Why China remains crucial to Hong Kong
By Surbhi Jain

Dec. 11 2014, Updated 1:00 p.m. ET
China is crucial to Hong Kong
Hong Kong still relies a lot on China for its income and growth. In the past decade, China has been Hong Kong's largest destination of re-exports and supplier of imports. In 2005, China replaced the US to become the largest destination of Hong Kong's domestic exports.
 China accounts for about 47% of Hong Kong's exports and 50% of its imports
1/5th of bank assets in Hong Kong represent loans to Chinese customers
 Tourism and retail spending from China accounts for 10% of Hong Kong's GDP
Article continues below advertisement
The interdependence between Hong Kong and China
While Hong Kong's dependencies on China remain central to any China-Hong Kong debate, China too has been and is dependent on Hong Kong in more than one area.
Over the years, China has been able to receive foreign capital (financial and human) through Hong Kong's more developed and mature legal system and capital market, which has served as an important platform for it. The platform has also aided China in absorbing technological and management expertise from the world.
With such cross-dependencies, it only makes sense for China and Hong Kong to resolve their political conflicts before the repercussions start impacting investment flow into the area. Exchange-traded funds such as the iShares China Large-Cap ETF (FXI), the Deutsche X-trackers Harvest CSI 300 China A-Shares ETF (ASHR), the iShares MSCI China Index Fund (MCHI), the iShares MSCI Hong Kong Index Fund (EWH), and the iShares MSCI All Country Asia ex Japan Index Fund (AAXJ) currently invest in the China and Hong Kong region.