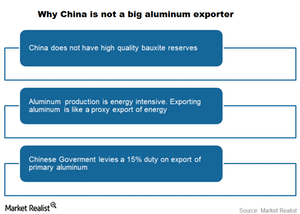 China Has A Limited Impact On The Global Aluminum Industry
By Mohit Oberoi, CFA

Nov. 20 2020, Updated 3:41 p.m. ET
China's impact on the global aluminum industry
China has a limited impact on the global aluminum industry. On a net basis, China only imported 7,000 tonnes of unrefined aluminum in 2012. This figure is small considering China's annual aluminum consumption. We'll analyze why in this part of the series.
Article continues below advertisement
China lacks self-sufficiency in raw materials
Bauxite is the main raw material in aluminum production. China lacks high-quality bauxite reserves. Until last year, China was relying on bauxite from Indonesia. Indonesia supplied the most bauxite to China. It accounted for ~70% of China's bauxite imports. Starting this year, Indonesia banned the export of unprocessed base metals.
Now, China will have to rely on bauxite imports from Australia. This is an opportunity for companies like BHP Billiton (BHP) and Rio Tinto (RIO).
Aluminum production is energy intensive
It's estimated that electricity accounts for ~40% of aluminum's production cost. China doesn't have cheap energy sources. Exporting primary aluminum means exporting energy.
China levies export duty on aluminum
China levies a 15% duty on the export of primary aluminum. However, China exports fabricated aluminum products. This helps the Chinese economy. Exporting fabricated products means exporting labor. China has plenty of labor.
The fabricated products are value-added aluminum products. Alcoa (AA) is transforming itself to become more of a value-added player. Century Aluminum (CENX) also indicated that all of its investments in the near future will be focused on growing its value-added business. AA and CENX are part of the SPDR S&P Metals and Mining ETF (XME).
China's aluminum exports increased in recent months. We'll discuss the increased aluminum exports in the next part of this series.