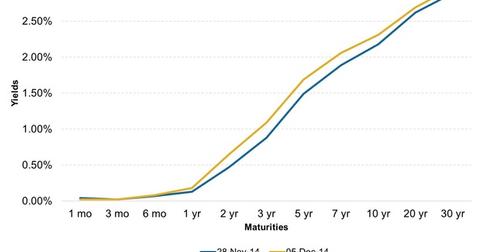 What caused U.S. Treasuries to move last week?
By David Ashworth

Updated
Secondary market
In the secondary market, yields rose across the curve last week with the two-year to 10-year segments seeing a rise of more than 10 basis points each.
Yields and prices move in opposite directions. So when yields rise, prices take a fall due to their inverse relationship.
Prices fell due to a positive job market report for November. We'll explore the ADP National Employment Report and the nonfarm payrolls report in Parts 5 and 6 of this series, respectively.
A positive report for the economy is generally negative for bonds, affecting Treasury-focused exchange-traded funds (or ETFs) such as iShares Barclays 20+ Year Treasury Bond Fund (TLT), iShares Barclays 7-10 Year Treasury Bond Fund (IEF), and iShares Barclays 1-3 Year Treasury Bond Fund (SHY).
Other bond market ETFs include Vanguard Total Bond Market ETF (BND) and iShares Core U.S. Aggregate Bond ETF (AGG). Also keep an eye out for movements in Treasury yields.
Some price rise after the European Central Bank's (or ECB's) decision not to undertake any additional stimulus just yet made Treasuries more attractive.
Article continues below advertisement
Primary market
The primary market activity for U.S. Treasuries was muted last week with no notes or bonds on offer. Only Treasury bills (or T-bills) of four, 13, and 26 weeks' maturity were up for auction.
T-bills worth $100 billion were up for sale in the week ended December 5, 2014. We'll look at the details of the auction results in Parts 2, 3, and 4 of this series.
Economic indicators
Apart from jobs reports, other important indicators were released last week. Of these, we'll explore trade deficit and factory orders in Parts 7 and 8, respectively.
We'll begin the series by exploring the T-bill auction results, specifically the four-week T-bill auction.