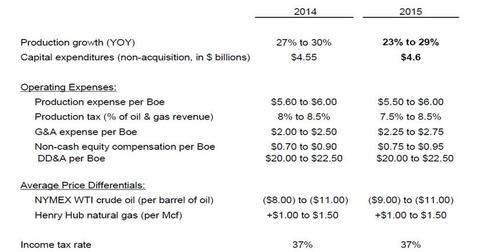 Capex and hedging may concern Continental Resources in 2015
By Alex Chamberlin

Updated
Continental Resources' 2015 outlook
Continental Resources, Inc. (CLR) released its 3Q14 financial results on November 5, 2014. In the previous sections of this series, we analyzed the results and Continental Resources' operations and assets. The company has also disclosed its outlook for 2014 and 2015. In this article, we'll discuss what to expect from Continental Resources going forward.
Article continues below advertisement
Capex, production, and costs estimates
Following is a summary of Continental Resources' capital expenditures, production, and costs estimates.
Capital expenditure (or capex) down. In 2015, Continental Resources expects to invest $4.6 billion in nonacquisition capital expenditures. This is 12% lower than the previous forecast of $5.2 billion.
Production growth estimate revised down. Continental Resources expects 23% to 29% production growth in 2015 compared to estimated 2014 levels. This budget is based on ~245 net wells in the Bakken at a cost of $9.6 million per well and ~105 net wells for the South Central Oklahoma Oil Province (or SCOOP) area at an average well cost of $11 million.
Production and G&A expense estimate revised. Production estimate range has marginally widened, while the general and administrative (or G&A) expense estimate has been revised upwards.
ConocoPhillips (COP), a US upstream energy producer, has revised its capex down. The slump in crude oil price may force other crude oil producers like Whiting Petroleum (WLL), Hess Corporation (HES), and EOG Resources (EOG) to reduce their capex budgets. These companies are components of the Energy Select Sector Standard & Poors depositary receipt (or SPDR) exchange-traded fund (or ETF) (XLE).
Hedge position liquidation effect
In September 2014, Continental Resources (CLR) liquidated and monetized substantially all its crude oil hedge positions for 2014, 2015, and 2016, generating proceeds of $433 million. The company has approximately one-third of its natural gas production hedged in 2015 at an average price of $4.34.
During 3Q14, matured commodity derivative positions settlements generated a $0.37 loss per barrel of oil and $0.15 gain per Mcf of natural gas for Continental Resources. In 3Q14, Continental Resources' crude realized price, without hedging, was $11.77 per barrel below the New York Mercantile Exchange (or NYMEX) price on an average for the period. In 3Q14, Continental Resources recorded a $473 million gain from derivatives.
After liquidation, Continental Resources remains fully exposed to crude oil price volatility. If crude price falls substantially from the level on November 5, the day the company liquidated its position, Continental Resources' profit may take a hit.