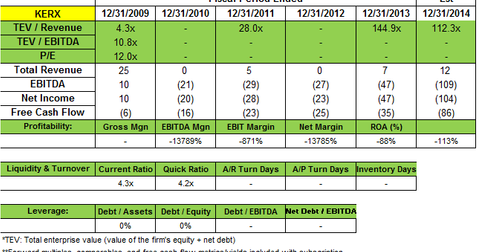 Baupost adds to position in Keryx Biopharmaceuticals
By Samantha Nielson

Dec. 5 2014, Updated 12:00 p.m. ET
Baupost raises position in Keryx Biopharmaceuticals
The Baupost Group raised its position in Keryx Biopharmaceuticals (KERX) that accounted for 4.38% of the fund's total third-quarter portfolio. The fund owns 18,300,000 shares, up from 10,539,986 shares in 2Q14. The position was initiated in 1Q14. The stock price is up ~ 26% year-to-date, as of November 28.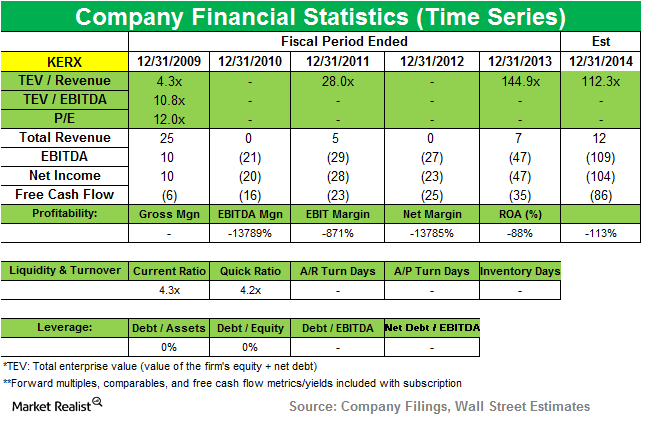 Article continues below advertisement
Overview of Keryx Biopharmaceuticals
Keryx Biopharmaceuticals is a biopharmaceutical company focused on the acquisition, development, and commercialization of pharmaceutical products for the treatment of renal disease. Its only drug candidate is Zerenex (ferric citrate), which is an oral, ferric iron–based phosphate binder. Keryx has completed a US-based phase 3 clinical program for Zerenex for the treatment of hyperphosphatemia (elevated phosphate levels) in dialysis-dependent chronic kidney disease or CKD patients.
Keryx sees FDA approval of Ferric Citrate
In September 2014, the U.S. Food and Drug Administration (or FDA) approved ferric citrate (formerly known as Zerenex) for the control of serum phosphorus levels in patients with CKD. Keryx was informed by the FDA that approval of the brand name Zerenex had been rescinded. Keryx said it expects to have an approved brand name on or prior to launch. It also initiated a pivotal Phase 3 study of ferric citrate for the treatment of iron deficiency anemia in patients with non-dialysis dependent (Stages 3 to 5) chronic kidney disease.
Meanwhile, shares fell when the FDA said the drug requires a safety warning. Patients receiving iron intravenously may require a reduction in dose or discontinuation of iron therapy because the treatment could increase iron levels.
Article continues below advertisement
Keryx's management noted on its earnings call that it will launch "Ferric Citrate into the U.S. phosphate binder market, which today is more than a $1.3 billion market." News reports noted analysts believe ferric citrate could be priced at a range of $5,000 to $7,500 a year. Keryx plans to commercially launch ferric citrate in the US in the fourth quarter of 2014.
Keryx sees wider net loss
Keryx's 3Q net loss grew to $35.3 million, or $0.38 per share, compared to a net loss of $15.7 million, or $0.19 per share, for the same quarter last year. The loss included a $3.0 million one-time FDA approval milestone payment to ferric citrate's licensor and $8.2 million of non-cash stock-based compensation expense. Research and development expenses increased by $8.4 million to $19.1 million.
Keryx sees license revenue on royalty payments from its Japanese partners for Zerenex. Japan Tobacco Inc. and Torii Pharmaceutical, Keryx's Japanese partners, received manufacturing and marketing approval of ferric citrate in Japan for the improvement of hyperphosphatemia in patients with CKD, including both dialysis-dependent and non–dialysis-dependent CKD. The drug is marketed as Riona in Japan. For 3Q, Keryx recognized $0.3 million in license revenue on royalty payments from sales of Riona.
Baupost's holdings in 3Q14
Seth Klarman's fund added new positions in Ocwen Financial Corp. (OCN), Antero Resources Corp. (AR), and Veritiv Corporation (VRTV). It raised its positions in Cheniere Energy, Inc. (LNG),  eBay Inc. (EBAY), Keryx Biopharmaceuticals, Inc. (KERX), and PBF Energy Inc. (PBF). The fund slightly lowered its position in Theravance Inc. (THRX). It didn't sell any positions during 3Q14.
The next part of this series will review Baupost's position change in PBF Energy.