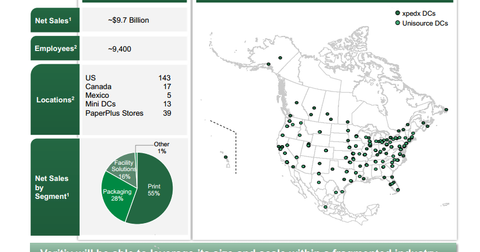 Baupost Group starts position in newly spun off Veritiv Corp.
By Samantha Nielson

Updated
Baupost adds position in Veritiv Corp
The Baupost Group added a stake in Veritiv Corporation (VRTV) that accounted for 2.06% of the fund's total third-quarter portfolio.
Article continues below advertisement
Overview of Veritiv Corporation
Veritiv spun off from International Paper Company in July
In July, International Paper Company completed the previously announced spin-off of its distribution solutions business, xpedx. Following the spin-off of the xpedx business to International Paper shareholders, UWW Holdings, Inc., the parent company of Unisource Worldwide, Inc., merged with and into the xpedx business to form a new, publicly-traded company, Veritiv Corporation.
xpedx was a business-to-business distributor of paper, publishing, packaging, and facility supplies products in North America. It distributed products and services to various customer markets, including printers, publishers, data centers, manufacturers, higher education institutions, healthcare facilities, sporting and performance arenas, retail, government agencies, property managers, and building service contractors. UWW was a distributor of printing and business paper, publishing solutions, packaging supplies and equipment, facility supplies and equipment, and logistics services, primarily in the US and Canada.
Following the spin-off and merger transactions, International Paper shareholders owned approximately 51%, and the new holding company, UWW Holdings, LLC, owned approximately 49% Veritiv shares on a fully-diluted basis.
Article continues below advertisement
Veritiv expects moderate growth in packaging and facilities solutions markets
Veritiv's IPO (initial public offering) prospectus reveals that it believes, "over the next several years the packaging and facilities solutions markets will experience moderate growth while the print market will remain flat or decline, triggering a shift in business mix to higher margin growth segments." It adds, "the markets we serve are highly fragmented, which we believe will allow the combined company to leverage its scale to expand."
Veritiv forecast revenue for 2014 in the $9 billion to $10 billion range. It said it is targeting annual cost savings and other synergies in the range of approximately $150 million to $225 million, expected to be fully realized by the end of 2018.
Adjusted EBITDA (earnings before interest, taxes, depreciation, and amortization) in 2014 for the combined business is expected to be between $135 million and $145 million. Veritiv forecast incremental annual improvements in adjusted EBITDA over the next few years. It expects improvements of approximately $100 million by the end of 2017, driven primarily by anticipated cost savings and synergies.
Article continues below advertisement
Posts 3Q loss of $14 million
Third-quarter 2014 net sales were $2.4 billion, a decrease of 3.3% from the previous year. Adjusted EBITDA was $51.5 million, a decrease of 6.2% from the previous year. Net loss was $14 million. The company said in its 10Q filing that a "decrease in net sales of the legacy xpedx operations, due primarily to declines in sales volume in the Print, Publishing, and Facility Solutions segments, more than offset an increase in sales volume in the Packaging segment."
Baupost's holdings in 3Q14
Seth Klarman's fund added new positions in Ocwen Financial Corp. (OCN), Antero Resources Corp. (AR), and Veritiv Corporation (VRTV). It raised its positions in Cheniere Energy, Inc. (LNG),  eBay Inc. (EBAY), Keryx Biopharmaceuticals, Inc. (KERX), and PBF Energy Inc. (PBF). The fund slightly lowered its position in Theravance Inc. (THRX). It didn't sell any positions during 3Q14.
The next part of this series will look at Baupost's position change in Cheniere Energy.