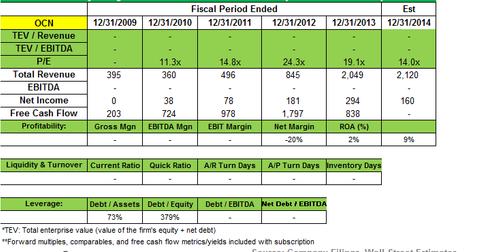 The Baupost Group buys stake in Ocwen Financial in 3Q14
By Samantha Nielson

Dec. 4 2014, Updated 1:01 p.m. ET
Baupost adds position in Ocwen Financial
Seth Klarman's The Baupost Group, LLC, added a significant stake in Ocwen Financial Corp. (OCN) that accounted for 3.19% of the fund's total third-quarter portfolio.
Article continues below advertisement
Ocwen Financial Corporation overview
Ocwen Financial is a financial services holding company that, through its subsidiaries, is one of the largest mortgage companies in the US. The company is the fourth-largest mortgage servicer in the US and operates in the servicing industry with an emphasis on foreclosure prevention, helping to keep borrowers in their homes. Its primary lines of business are servicing and lending.
Ocwen sees investigation over business dealings with affiliate companies
The non-bank mortgage servicer, which is owned by billionaire founder William C. Erbey, saw shares rise recently over unconfirmed reports that Superintendent of Financial Services Benjamin Lawksy may leave the New York Department of Financial Services (or DFS). Lawsky has targeted Ocwen's practices in handling struggling mortgage borrowers and its dealings with affiliated companies.
In February, Ocwen was asked by the DFS to put its planned rights purchase to service mortgages with Wells Fargo "on an indefinite hold." The deal was worth $2.7 billion and was recently cancelled.
Lawsky said in a letter that the DFS was "reviewing a troubling transaction involving Ocwen's related company, Altisource Portfolio Solutions, and the provision of force-placed insurance." He further added that the "complex arrangement appears designed to funnel as much as $65 million in fees annually from already distressed homeowners to Altisource for minimal work." It also said that Ocwen's chairman, Erbey, played a role in approving the arrangement.
In June, Ocwen said it received a subpoena from the Securities and Exchange Commission (or SEC). The subpoena requested various documents relating to business dealings with Altisource, Home Loan Servicing Solutions Ltd. (HLSS), Altisource Asset Management Corp. (AAMC), and Altisource Residential Corp. (RESI), and the interests of the company's directors and executive officers in those companies. Erbey is also the chairman for Altisource, HLSS, AAMC, and RESI.
Shares fall in August on restatement of financial results
Ocwen said in August that it was restating its financial results for at least 1Q14 and all of 2013 to reflect a change in the valuation method for its financing liability. It added that the changes were in relation to material weakness over accounting for particular transactions, especially the sale of mortgage servicing rights to Home Loan Servicing Solutions. Shares fell and were down 22% as of September.
Ocwen swings to a loss in 3Q14
The company missed on earnings and revenue estimates for 3Q14. It saw a net loss of $75.3 million, or $0.58 per share, down from net income of $60.6 million, or $0.39 per share, for the third quarter of 2013. Its earnings included a $100 million pretax charge for a potential settlement with the DFS. Ocwen generated revenue of $513.7 million, down 3% compared to the third quarter of 2013.
Baupost's holdings in 3Q14
Seth Klarman's fund added new positions in Ocwen Financial Corp. (OCN), Antero Resources Corp. (AR), and Veritiv Corporation (VRTV). It raised its positions in Cheniere Energy, Inc. (LNG),  eBay Inc. (EBAY), Keryx Biopharmaceuticals, Inc. (KERX), and PBF Energy Inc. (PBF). The fund slightly lowered its position in Theravance Inc. (THRX). It didn't sell any positions during 3Q14.
The next part of this series will provide an overview of Baupost's new position in Antero Resources Corp.