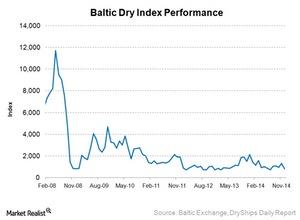 Why the Baltic Dry Index dipped in November
By Katie Dale

Nov. 20 2020, Updated 10:46 a.m. ET
Baltic Dry Index
The Baltic Dry Index measures the price of transporting dry bulk by sea. The Baltic Exchange Dry Bulk Index (BDIY) is a composite of rates for different ship sizes factoring in the average daily earnings of Capesize, Panamax, Supramax, and Handysize dry bulk transport vessels.
Article continues below advertisement
November performance
Since November 1, the Baltic Dry Index has recorded a significant decrease of 44.8% in trading to 803 from 1,456 at the beginning of November. On a year-over-year basis, the index has declined by 62.4% from its near 52-week high levels of 2,134 on Dec 19, 2013.
Despite a decline in fuel prices, the Baltic Dry Index has recorded an approximate 40% drop since the start of November and a 62% decline year-to-date. Freight rates for Capesize ships, one of the larger ships that specialize in long haul and large volume iron ore and coal transports, have dropped nearly 50% in the past three months.
Dry bulk industry is uncertain
The CEO of Goldenport Holdings, John Dragnis, reported that the 2015 outlook for the dry bulk industry is uncertain. The long-awaited recovery in the sector may not materialize in the near term as the orderbook casts a shadow over subdued demand. This is reflected in the capesize and supramax freight forward agreements for calendar year 2015, which are currently trading at $12,200 and $8,825 per day, respectively.
Dragnis added, "We remain nevertheless optimistic about the dry bulk sector and believe that increased coal imports to India, long-haul Brazilian iron ore imports to China and South American grain exports could lead to a sustainable rally."
With a positive outlook expected in 2015, companies like DryShips Inc. (DRYS), Diana Shipping Inc. (DSX), Navios Maritime Partners LP (NMM), Navios Maritime Holdings Inc. (NM), Safe Bulkers Inc. (SB), and the Guggenheim Shipping ETF (SEA) are likely to benefit. Shipping rates play a key role in the companies' revenue and cash flows.
Going forward, let's take a look at what other factors affect shipping rates.