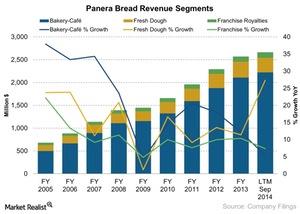 Bakery-Cafe Contributes Most Of PNRA's Segment Revenue
By Adam Jones

Updated
Segment revenues
In the last part of this series, we discussed Panera Bread's (PNRA) revenue growth. Over the past nine years it had a 17% CAGR (compound annual growth rate). It's important for investors to know where PNRA gets its segment revenue. However, PNRA's revenue growth has been declining.
The company reports its revenue under the following three segments:
Bakery-Café Operations
Franchise Operations
Fresh Dough and Other Product Operations
Article continues below advertisement
Bakery-Café Operations
Bakery-Café is PNRA's café operation. PNRA is in charge of all the operations. It also keeps all of the revenues. This segment accounts for most of PNRA's revenues. You can see this in the above chart. For the last 12 months that ended in 3Q14, the company earned $2.2 billion from this segment. It grew 5.3% year-over-year, or YoY.
Franchise Operations
At the end of September 2014, PNRA had 942 franchise restaurants. From this segment, the royalties and fees were $320 million. It grew 27% YoY. PNRA added 241 franchise restaurants over the last 12 months—compared to 230 company-operated restaurants. Since the company doesn't have much cost for the franchise operation, the revenue growth is justified. The low company cost is also evident in the operating margin. It's 95% for the franchise segment. In contrast, PNRA has an operating margin of only 16% from Bakery-Café.
McDonald's (MCD) has a franchise margin of 82%. Chipotle Mexican Grill (CMG) has an operating margin of 16%. CMG only has company-operated restaurants.
Some of the restaurants above are part of the SPDR S&P 500 ETF (SPY). SPY holds other stocks as well—including Walmart (WMT).
Fresh Dough and Other Product Operations
The company-owned and franchise restaurants get their fresh dough and other items—like tuna, cream cheese, and produce—from PNRA. The sales are recorded under this segment. As of 3Q14, this segment's sales for the last 12 months were $120 million. It grew 7% YoY.
In the next part of this series, we'll look at the Fresh Dough segment in more detail.