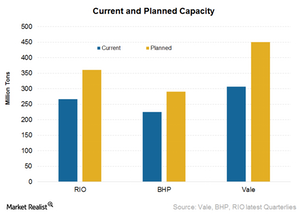 Assessing the overall iron ore market situation
By Anuradha Garg

Updated
Iron ore capacity
The ramping up of iron ore capacity from big players such as BHP Billiton (BHP), Rio Tinto (RIO), and Vale SA (VALE) has been weighing on iron ore prices due to the lack of corresponding demand growth, especially from China. The iron ore market went into surplus sometime in mid-2014 and has been oversupplied since then. This situation doesn't seem as if it will be corrected any time soon, due to the structural nature of forces playing on the demand and supply side.
Article continues below advertisement
Demand fundamentals remain weak
None of the big players that have attractive cost profiles want to relent on iron ore capacity expansion and give up on the market share gain in the bargain. This situation creates an oversupply. On the other hand, as we've previously discussed throughout this series, China's demand fundamentals are weakening for now. The factory output, steel production, and real estate activity are all showing signs of slowdown.
The targeted easing measures taken by the Chinese government doesn't seem to be paying off just yet. Even if China returns to pace, it is very difficult to achieve the pace it was operating at during 2010-2011, in the face of the capacity expansions that were announced by major iron ore players and smaller players.
Some small players like Cliffs Natural Resources (CLF) are feeling the heat due to such a collapse in prices. Its share price has given up 73.6% since the year started. It should not be long before these players call it a day in the face of excessive debt burdens and falling prices.
Outlook bleak
Current demand-supply situation doesn't bode well for the small players in the iron ore market. The situation could improve somewhat if marginal players—including high-cost producers in China, Brazil, and Australia—leave the market. But even for that to occur, iron ore prices will need to stay lower for longer.
The Department of Energy in Australia also cut its iron ore for next year by 33% to $63 a ton. As the the world's top exporter, Australia estimates that its surging output will outpace Chinese demand growth, adding to a glut.
Investors interested in diversified exposure to this sector might consider the SPDR S&P Metals and Mining ETF (XME).