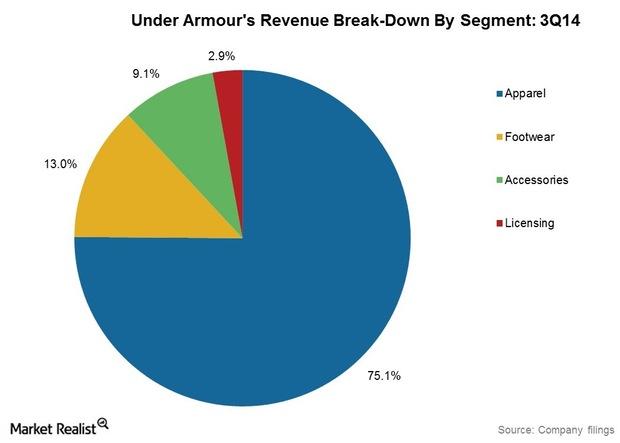 Under Armour Versus NIKE: Can David Beat The Footwear Goliath?
By Phalguni Soni

Dec. 16 2014, Updated 8:00 a.m. ET
Who's winning the footwear races?
Under Armour, Inc. (UA) began selling footwear products in 2006. Since then, footwear sales have grown impressively, increasing to 15.8% of revenues, or $345.2 million, in the first three quarters of 2014. Footwear sales grew by over 30% year-over-year in all three quarters.
Article continues below advertisement
Market leadership
Under Armour, or UA, first entered the footwear business in 2006 with its campaign called Click-Clack. The company started off by launching football cleats. The launch was impressive, and the firm captured 23% of market share in year one. Since then, UA has launched footwear products for other sports categories using a phased approach.
"We began in 2006 with football cleats, and the one thing I like to remind people is that 2006 was football cleats, 2007 baseball, 2008 was training, 2009 running and 2010 was basketball. And it's taken us really eight years to get to the leadership position I believe that we've seeing in cleated, and we anticipate in time we will reach that leadership position in every category we're doing business,' said Kevin Plank, Founder, Chairman, President, and CEO of Under Armour, speaking during the 3Q14 earnings conference call.
Rome wasn't won in a day
Although sales are growing strong, UA's got a ways to go before it can dent the market share of leader NIKE, Inc. (NKE). NIKE, the market leader, has been selling footwear for 50-odd years. NIKE footwear sales came in at $16.2 billion for the fiscal year ended May 31, 2014, accounting for 62% of total revenues.
But UA remains bullish on footwear, aiming for it to overtake apparel and become the largest product category. It's looking at new launches and technology to make it happen. These would give the company more pricing power, and, at the same time, higher unit sales.
UA launched the SpeedForm brand of footwear in 2014. The company expects footwear sales to cross $400 million in 2014, on SpeedForm and other products. Big launches are planned for 2015 that will broaden the company's footwear portfolio. The SpeedForm Gemini with Charge Cushioning and the SpeedForm Vent are some of the product launches slated for 2015. UA also looks to leverage SpeedForm technology to more products. This would enable it to improve product variety and reach across a wider consumer base.
Both UA and NIKE are part of the iShares S&P 500 Growth ETF (IVW), the Vanguard Total Stock Market ETF (VTI), and the iShares Core S&P 500 Index ETF (IVV).