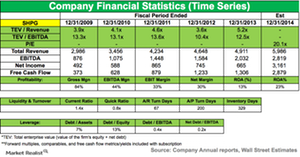 AQR Capital ups position in Shire Plc
By Diana Key

Updated
AQR raises stake in Shire Plc
AQR Capital increased its position in Shire Plc during the third quarter of 2014. The stock accounts for 0.58% of the total portfolio, up from 0.14% of the fund's 2Q14 portfolio.
Article continues below advertisement
About Shire
Shire, a leading biopharmaceutical company, develops and markets innovative specialty medicines that address significant unmet patient needs. The company's four commercial units focus exclusively on the following therapeutic areas:
Rare diseases
Neuroscience
Gastrointestinal issues
Internal medicine
Shire's headquarters are in Dublin, but the company is incorporated on the island of Jersey for tax purposes.

AbbVie's abandoned deal with SHPG
Shire and US firm AbbVie terminated their $54-billion merger plan in October 2014. In July, AbbVie had agreed to buy European rival Shire in a deal worth around $54.7 billion. AbbVie said the recent changes by the US Department of the Treasury for the so-called tax inversion deals had "introduced an unacceptable level of uncertainty to the transaction."
These developments led to a sharp fall in Shire's stock. The abandoned deal erased gains for hedge funds that had built up long positions in Shire and that had been confident about the merger's success.
Shire said in a release that "as an independent company, our focused growth strategy will continue to deliver significant shareholder value and patient benefits." The company expects to double product sales to $10 billion by 2020.

Article continues below advertisement
3Q14 highlights
SHPG's product sales grew by 33% during the third quarter of 2014 compared to 3Q13. The company's acquisition of ViroPharma Inc. (VPHM) contributed 14% to this increase. Also, the other top products in Shire's portfolio delivered double-digit growth during the quarter.
Operating income was up 60% in 3Q14. The increase was due to research and development efforts as well as a much lower selling, general, and administrative expense rate, up 10%, than total revenues, which were up 32%. On a US GAAP (generally accepted accounting principles) basis, diluted earnings per ADS (American depository share) increased 66% as a result of higher operating income.

Strategic collaboration in 3Q14
On July 23, 2014, Shire and ArmaGen Technologies announced a worldwide licensing and collaboration agreement. ArmaGen is a privately held company based in the US. The two companies intend to develop and commercialize an investigational enzyme replacement therapy that will strengthen Shire's innovative offerings from its rare disease pipeline.

Article continues below advertisement
Improved 2014 guidance
Shire expects to deliver non-GAAP earnings per ADS growth in the high 30% range in 2014. The previous guidance was in the low to mid 30% range.
After strong product sales performance year-to-date, SHPG expects product sales growth for the full year 2014 in the low 20% range. The previous guidance was for growth in the high teens.
AQR Capital's other 3Q14 positions
During 3Q14, AQR initiated a position in Bally Technologies. The firm also increased its position in Gilead Sciences Inc. (GILD), Intel Corp (INTC), Glimcher Realty Trust (GRT), and Biogen Idec Inc. (BIIB). The firm sold positions in AstraZeneca (AZN) and Riverbed Technology Inc. (RVBD).
The next part of this series will explore AQR's position change in Intel Corp.