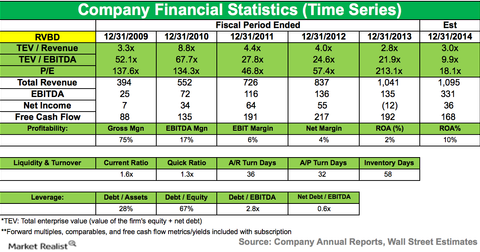 AQR Capital sold its stake in Riverbed Technology
By Diana Key

Updated
AQR sold Riverbed Technology
AQR Capital sold its position in Riverbed Technology during the third quarter of 2014. The stock accounted for 0.24% of the 2Q14 portfolio.
Article continues below advertisement
Riverbed Technology in brief
Riverbed Technology provides application performance infrastructure products. The Riverbed Application Performance Platform (or APP) is a set of integrated solutions that give companies the flexibility to host applications and data in the locations that best serve the business. The networking-equipment maker has two product lines:
The Application Acceleration product line includes wide area network (or WAN) optimization products, such as Steelhead and SteelFusion (formerly Granite), Stingray virtual application delivery controllers (or ADCs), and Whitewater cloud storage delivery products.
The Performance Management product line includes application-aware network performance management (or NPM), application performance management (or APM), network engineering, operations and planning (or NEOP), and network simulation and modeling products.
NetApp to acquire Riverbed's SteelStore product line
On October 27, NetApp Inc. (or NTAP) announced the acquisition of Riverbed's SteelStore product line in an all-cash transaction for approximately $80 million.
With this divestment, Riverbed will be able to focus on its core competencies. The company expects to deliver the best solutions in the application performance infrastructure market for today's hybrid enterprise.
NetApp expects that the SteelStore product will be available during its fiscal third quarter of 2015.
Article continues below advertisement
Thoma Bravo acquires Riverbed
On December 15, Riverbed entered into a definitive agreement with leading private equity investment firm Thoma Bravo and the private investor department of Ontario Teachers' Pension Plan, Teachers' Private Capital. In an all-cash transaction, Riverbed stockholders will receive $21 per share in cash, or ~$3.6 billion. The transaction is at a premium of 8.58% based on RVBD's closing price on November 13, 2014.
The Riverbed board of directors unanimously approved the transaction. The company expects the transaction to close in the first half of 2015.
Strong 3Q14 earnings
Generally accepted accounting principles (or GAAP) revenue was $276 million, compared to $262 million in 3Q13. The company reported a 6% year-over-year (or YoY) growth. GAAP net income was $11.5 million, or $0.07 per diluted share, compared to $3.8 million, or $0.02 per diluted share in 3Q13.
Non-GAAP revenue for 3Q14 was $277 million, 4% up compared to $265 million in 3Q13. Non-GAAP net income was $48.7 million, compared to $43.3 million in 3Q13. Non-GAAP earnings were $0.30 per diluted share representing a 15% YoY increase.
4Q14 outlook
The company expects its non-GAAP revenues to be in the range of $285 million and $290 million. Non-GAAP earnings per share are expected to be in the range of $0.31 to $0.33 per share.