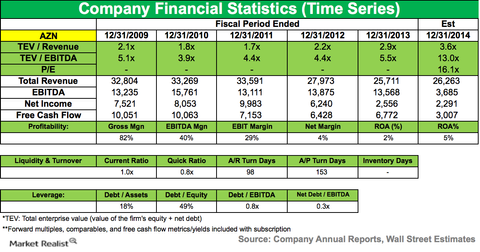 AQR Capital sold its position in AstraZeneca
By Diana Key

Dec. 25 2014, Updated 3:59 p.m. ET
AQR sold AstraZeneca
AQR Capital sold its position in AstraZeneca during the third quarter of 2014. The stock accounted for 0.24% of the 2Q14 portfolio.
Article continues below advertisement
About AstraZeneca
AstraZeneca is one of a few pure-play bio-pharmaceutical companies that span a medicine's entire value chain. The company is involved in research, early and late-stage development, manufacturing, and distribution. The company's three important areas are:
Cardiovascular and metabolic disease
Oncology
Respiratory, inflammation, and autoimmunity
AZN plans to expand its biologics-manufacturing center to support its maturing pipeline. Biologics currently represent ~50% of its overall pipeline.
AstraZeneca to buy Definiens
On November 4, AZN's global biologics research and development arm agreed to acquire privately held Definiens for $150 million. Definiens has pioneered a world-leading imaging and data analysis technology, which dramatically improves the identification of biomarkers in tumor tissue. The transaction will strengthen AZN's focus in immuno-oncology.
Article continues below advertisement
Slide in profit in 3Q14
Sales rose 5% to $6.54 billion, helped by delays in the launch of a cheap copy of AstraZeneca's heartburn pill, Nexium, by Ranbaxy Laboratories. Net profit fell to $254 million, compared to $1.25 billion in 3Q13. Core earnings per share were $1.05, 8% down from $1.22 as AZN is investing in marketing and new drug development.
Its blood-thinning drug, Brilinta, reported revenue increase of 78%. The company's diabetes franchise reported revenue growth of 139% due to the strong US Farxiga launch and good uptake of Bydureon Pen.
Pipeline of products
During the quarter, FDA approved type 2 diabetes drug Xigduo XR, and opioid-induced constipation treatment Movantik. AZN received a positive opinion by the Committee for Medicinal Products for Human Use (or CHMP) for Lynparza, an ovarian cancer treatment.
AstraZeneca achieved positive phase three data for intra-abdominal infection treatment with ceftazidime-avibactam and gout therapy with lesinurad.
Article continues below advertisement
AstraZeneca's divestment
On November 6, AZN entered into a definitive agreement with Aegerion Pharmaceuticals, Inc. (AEGR) to sell its Myalept drug for $325 million. Myalept treats a rare disease associated with the loss of fat tissue. With the divestment, AZN can focus on core strategic priorities.
Strategic transaction with Almirall
On November 3, AZN completed a transaction with Almirall. AZN owns the rights to develop and commercialize Almirall's proprietary respiratory business. This includes rights to revenues from Almirall's existing partnerships. It also includes a pipeline of investigational novel therapies.
Article continues below advertisement
Improved 2014 guidance
Before, AZN did not expect any growth for the year, but now AZN expects sales to grow in low single digits for the full year. Previously, the company expected a low double-digit decline, but now it expects core earnings per share to decline by ~10%.
AQR Capital's other 3Q14 positions
During 3Q14, AQR initiated a position in Bally Technologies. The firm increased its position in Gilead Sciences Inc. (GILD), Shire Plc (SHPG), Intel Corp (INTC), Glimcher Realty Trust (GRT), and Biogen Idec Inc. (BIIB). The firm also sold its position in Riverbed Technology Inc. (RVBD).

The next part of this series will explore AQR's position change in Riverbed Technology.