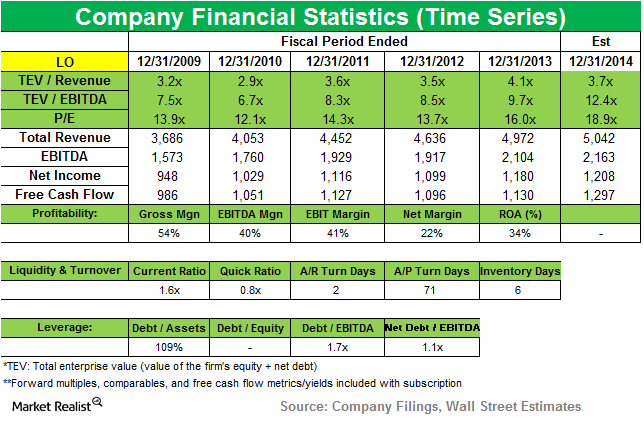 Appaloosa Management starts new position in Lorillard
By Samantha Nielson

Nov. 27 2019, Updated 5:25 p.m. ET
Appaloosa Management and Lorillard
Appaloosa Management initiated a new position in Lorillard Inc. (LO) in the third quarter that ended in September 2014. The position accounts for 1.25% of the fund's total third-quarter portfolio.
Article continues below advertisement
Overview of Lorillard
Lorillard Inc. (LO), through its Lorillard Tobacco Company subsidiary, is the third-largest manufacturer of cigarettes in the United States. Founded in 1760, Lorillard Tobacco Company is the oldest continuously operating tobacco company in the United States. Newport, Lorillard Tobacco's flagship premium cigarette brand, is the top-selling menthol and second-largest company selling cigarettes in the United States. In addition to Newport, the Lorillard Tobacco product line has four additional cigarette brand families marketed under the Kent, True, Maverick, and Old Gold brand names. It is also a leading global electronic cigarette company marketed under the blu ecigs brand in the United States and the United Kingdom. The company has two reportable segments, Cigarettes and Electronic Cigarettes.
Reynolds American to acquire Lorillard
In July, Reynolds American, Inc. (RAI), a leading tobacco products company and the parent company of R.J. Reynolds Tobacco Company, entered into a definitive agreement with Lorillard. In the agreement, RAI agreed to acquire Lorillard in a cash-and-stock transaction valued at $68.88 per Lorillard share, or a total of $27.4 billion including the assumption of net debt. The deal is seeing regulatory review. The companies have tried to reduce antitrust concerns by agreeing to sell brands such as KOOL, Salem, Winston, Maverick, and blu ecigs brands for $7.1 billion to British company Imperial Tobacco Group Plc (IMT).
Article continues below advertisement
A release said the acquisition of Lorillard will significantly strengthen and diversify R.J. Reynolds' cigarette portfolio with brands including Newport, Camel, and Pall Mall. Reports said the combined company will account for around 33% of the U.S. industry and can effectively compete with larger rival Altria Group (MO). The companies expect the closing of the acquisition to occur in the first half of 2015.
Third-quarter sales growth driven by cigarette net sales
Lorillard's reported generally accepted accounting principles (or GAAP) diluted earnings per share increased 15.9% over the last year to $0.80 in the third quarter of 2014. Net sales rose 0.2% to $1.831 billion due to a 1.6% increase in net sales of cigarettes. This was offset partially by a decrease in net sales of electronic cigarettes. Cigarette net sales increased 1.6% to $1.793 billion in the third quarter of 2014, compared to $1.764 billion in the third quarter of 2013. This was due to higher average net cigarette selling prices, partially offset by a lower cigarette unit sales volume.
Article continues below advertisement
Lorillar sees contraction in domestic cigarette market
The company noted in its 10Q filing that the "domestic cigarette market continues to contract. As a result of price increases, restrictions on advertising, promotions and smoking in public and private facilities, increases in regulation and excise taxes, health concerns, a decline in the social acceptability of smoking, increased pressure from anti-tobacco groups and other factors, domestic cigarette shipments have decreased at a compound rate of approximately 3.8% from 2004 through 2014."
In connection with the merger, while Lorillard suspended future share repurchases, it expects to continue its current dividend policy. It recently declared a quarterly dividend of $0.615 per share.
Appaloosa's positions in 3Q14
Appaloosa Management added new positions in NXP Semiconductors NV (NXPI), Lorillard Inc. (LO), Alibaba Group (BABA), and Shire Plc (SHPG). Top exits were Expedia, Inc. (EXPE), and American International Group (AIG). The fund added to its stakes in Whirlpool Corporation (WHR) and Priceline Group Inc. (PCLN). Top stake decreases were in American Airlines (AAL) and The Walt Disney Company (DIS).
The next part of the series will discuss Appaloosa Management's new position in Alibaba Group (BABA).