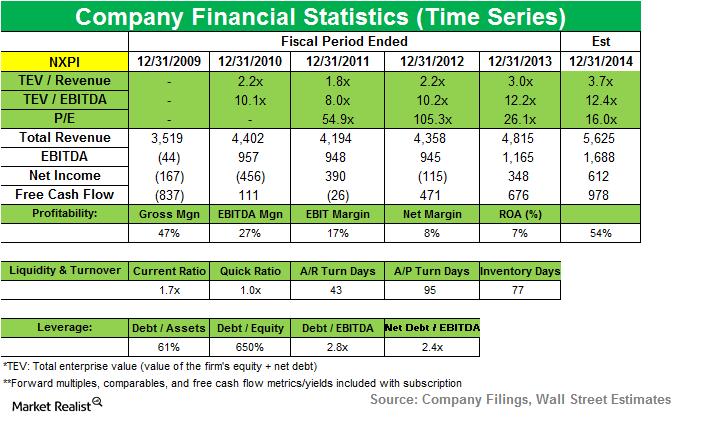 NXP Semiconductors is Appaloosa Management's new position
Appaloosa Management's new position in NXP
Appaloosa Management initiated a new position in NXP Semiconductors NV (NXPI) in the third quarter that ended in September 2014. The position accounts for 2.55% of the fund's total third-quarter portfolio.
Article continues below advertisement
Overview of NXP Semiconductors
Netherlands-based NXP Semiconductors NV (NXPI) is a global semiconductor company and a long-standing supplier in the industry. It sells two categories of products: High Performance Mixed Signal product solutions and Standard Products. The first category, which consists of highly differentiated application-specific high performance mixed signal semiconductors and system solutions, accounted for 76% of the company's total product revenue in 2013. These are used in the areas of radio frequency (or RF), analog, power management, interface, security technologies, and digital processing.
NXP's solutions are used in a wide range of applications such as automotive, identification, wireless infrastructure, lighting, industrial, mobile, consumer, and computing. The company deals with original equipment manufacturers (or OEMs) worldwide, and 64% of its revenue in 2013 was derived from Asia Pacific, excluding Japan.
Article continues below advertisement
NXP could supply NFC chips to Apple
NXP's Standard Products consists of devices that can be incorporated in many types of electronics equipment. Some of its main customers for standard products include Apple and Bosch. A Financial Times report in August noted that NXP will be the supplier for Apple for near field communication (or NFC) chips in connection with a mobile payment solution for the new iPhone 6. NXP noted in its annual filing that NFC is a rapidly growing standard for secure short-range connectivity that has been established to enable secure transactions between mobile devices and point-of-sale terminals or other devices.
NXP's acquisition aimed at expansion into Internet-of-Things
Apple supplier NXP recently entered into an agreement with Quintic to acquire assets and intellectual property (or IP) related to its Wearable and Bluetooth Low Energy (or BTLE) integrated circuit (or IC) business. NXP said the acquisition will help it "create security and connectivity solutions for fast-growing Internet-of-Things applications in Health & Fitness Wearables, Mobile Transactions, Proximity Marketing, Smart Home and Automotive."
Article continues below advertisement
Third-quarter results driven by strong product revenue
NXP's third-quarter results beat estimates. Adjusted net income for the quarter was $334 million, or $1.35 per share, compared to $219 million, or $0.85 per share, in the year-ago period. However, generally accepted accounting principles (or GAAP) net income of $121 million, or $0.49 per share, declined from $155 million, or $0.60 per share, in 3Q13. Total revenues for the quarter rose 21% to $1.52 billion, from $1.25 billion in 3Q13. The management commented that its "third quarter results were a direct reflection of strong High Performance Mixed Signal or HPMS product cycles across the entire product portfolio." They added that "Standard Products segment continues to perform well, with revenue up 5% sequentially and up 14% versus the year ago period."
Appaloosa's positions in 3Q14
Appaloosa Management added new positions in NXP Semiconductors NV (NXPI), Lorillard Inc. (LO), Alibaba Group (BABA), and Shire Plc (SHPG). Top exits were Expedia, Inc. (EXPE), and American International Group (AIG). The fund added to its stakes in Whirlpool Corporation (WHR) and Priceline Group Inc. (PCLN). Top stake decreases were in American Airlines (AAL) and The Walt Disney Company (DIS).
The next part of the series will discuss Appaloosa Management's new position in Lorillard Inc. (LO).