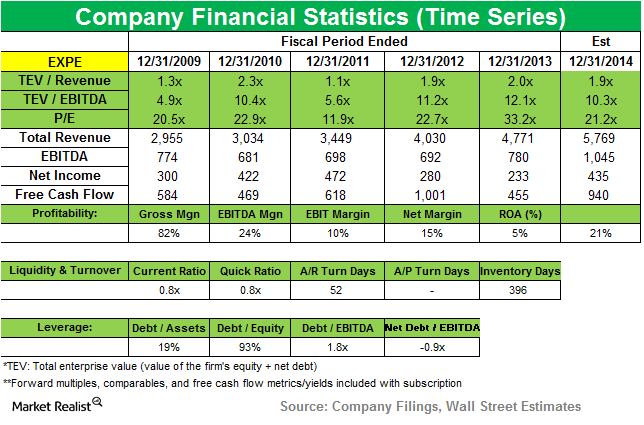 Appaloosa exits position in Expedia
Appaloosa exits Expedia
Appaloosa Management exited a position in Expedia, Inc (EXPE) in the third quarter that ended in September 2014. The position accounted for 0.99% of the fund's total portfolio in the second quarter that ended in June. The stake was initiated in 1Q14. The stock is up ~26% year to date.
Article continues below advertisement
Overview of Expedia
Expedia, Inc. (EXPE), based in Bellevue, Washington, is an online travel company seeking to grow its business through its broad portfolio of travel brands. The company's brands, including Expedia, Hotels.com, Egencia, Expedia Affiliate Network (or EAN), and Hotwire.com, operate both domestically and through international points of sale in Europe, Asia Pacific, Canada, and Latin America. Expedia owns a majority share of eLong, the second-largest online travel company in China. It also owns Venere.com, a European brand that focuses on marketing hotel rooms in Southern Europe. Egencia, its corporate travel business, operates in more than 60 countries around the world and continues to expand, including its 2012 acquisition of VIA Travel. It also partners in a 50/50 joint venture with AirAsia, a low-cost carrier serving the Asia-Pacific region, to jointly grow an online travel agency business.
Expedia provides, on a stand-alone and package basis, travel products and services from numerous airlines, lodging properties, car rental companies, destination service providers, cruise lines, and other travel product and service companies. It also offers travel and nontravel advertisers access to a potential source of incremental traffic and transactions through its various media and advertising offerings.
Article continues below advertisement
Expedia looks to expand in Asia Pacific with Wotif acquisition
In July, Expedia agreed to acquire Australia's Wotif Group for $658 million. It said, "Wotif Group will add to our collection of travel's most trusted brands and enhance our supply in the Asia-Pacific region." It also completed the acquisition of Auto Escape Group, one of Europe's leading online car rental reservation companies.
Reports in October said Liberty Media's (LMCA) CEO Greg Maffei hinted at a conference that the company may exit its stake in Expedia. The reports added that the stake has a market value of $1.82 billion. Expedia also saw rumors in September that it could see a possible acquisition bid from Alibaba (BABA).
Expedia sees higher revenue and earnings
For 3Q14, Expedia said its gross bookings growth of 29% and revenue growth of 22% were driven primarily by strong hotel room night and air ticket growth. Profits were up 50% to $257.1 million, or $1.94 a share, from $170.9 million, or $1.43 a share, a year earlier. Revenue surged 22% to $1.71 billion, driven by a 29% growth in advertising and media.
Appaloosa's positions in 3Q14
Appaloosa Management added new positions in NXP Semiconductors NV (NXPI), Lorillard Inc. (LO), Alibaba Group (BABA), and Shire Plc (SHPG). Top exits were Expedia, Inc. (EXPE), and American International Group (AIG). The fund added to its stakes in Whirlpool Corporation (WHR) and Priceline Group Inc. (PCLN). Top stake decreases were in American Airlines (AAL) and The Walt Disney Company (DIS).
The next part of this series will discuss Appaloosa Management's exit from American International Group (AIG).