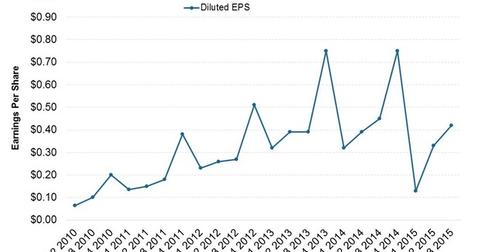 Analyzing Lululemon's 3rd Quarter 2014 Financial Results
By Phalguni Soni

Nov. 27 2019, Updated 7:23 p.m. ET
Lululemon's Q3 results summary
We've discussed Lululemon Athletica's (LULU) operational revenues and costs earlier in this series. We'll discuss its profitability and shareholder returns in this part.
Revenues were up 10.4% year-over-year to $419.4 million, disappointing markets, which had expected growth around 12%.
LULU reported $81.2 million in net income from operations in 3Q15, a decrease of 12% year-over-year. Operating profit margins were down to 19.4% in the quarter compared to 24.3% in 3Q14.
Net income declined less than expected, coming in at $60.5 million, an 8% year-over-year decline.
Earnings per share (or EPS) also beat estimates, coming in at $0.42 for the quarter—$0.04 higher than estimated. EPS were down by $0.03 over 3Q14, however.
Article continues below advertisement
Market reaction
Lululemon's latest results were well-received by markets. The stock jumped over 9% after the company released its results on December 11. The earnings announcement also corresponded with upbeat US retail (XRT)(XLY)(VCR) sales numbers for November, released by the Bureau of Economic Analysis on the same day.
Execution risks
Despite the buoyant market reaction, the company has its work cut out for it in the near term. Segment profitability has been declining for its largest segment, corporate-owned stores. The company has been ramping up its investments in operations to bring margins back to earlier levels.
LULU's also investing more by way of capital expenditure. In 3Q15, capital expenditure came in at $37.3 million, compared to $27.9 million in 3Q14. Higher investments relate to the costs associated with new store rollouts, renovations, IT, and head office capital.
However, a lot depends on how management executes its long-term growth plans and new store profitability. Challenging macroeconomic factors in certain markets could delay the rollout of new stores. These could also affect near-term store profitability in these markets.
Dividend policy
Execution is especially important since the company hasn't declared a dividend yet, so share price appreciation is the only source of shareholder upside in the short-to-medium term. Companies usually don't pay out dividends when they believe shareholders can earn higher returns staying invested in the company's business compared to other opportunities in the market.