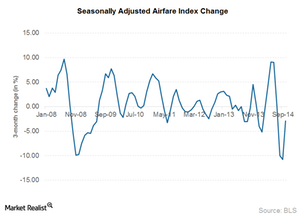 Airfare index rises in October, fuel index continues to fall
By Teresa Cederholm

Updated
Airfare index
The Consumer Price Index (or CPI) includes airline fares as a component of the public transportation index. The CPI includes prices of all scheduled domestic and international commercial airline trips on certified carriers from around 87 cities, but it excludes business trips. An increase in the index indicates that airline ticket prices are rising. According to the Bureau of Labor Statistics (or BLS), the seasonally adjusted airfare index increased by 2.4% in October after declining by 4.7% in August and 0.5% in September.
On an unadjusted basis, the index declined to 301.5, a year-over-year decline of 2.8%. However, the index rose by 3% from 292.4 in September. The seasonally adjusted three-month change in the index was -2.9% in October, compared to -10% in August and -10.8% in September.
Article continues below advertisement
Energy index
The seasonally adjusted energy index continued to decline month-over-month 1.9% in October after declining by 0.3% in July, 2.6% in August, and 0.7% in September. The fuel oil index has declined over the past few months and in October, it declined further by 4%. However, over the last 12 months, the unadjusted energy index decreased by 1.6%, whereas the fuel index declined by 6.5%.
A decline in fuel prices has a positive impact on the quarter's results of all airlines, including Delta (DAL), United (UAL), American (AAL), Southwest (LUV), and JetBlue (JBLU). Declining fuel prices also affect ETFs such as the iShares Transportation Average ETF (IYT) that hold airline stocks.