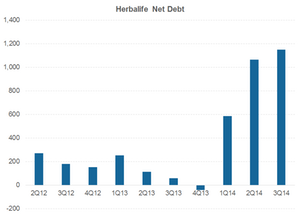 Ackman says Herbalife's debt levels are cause for concern
By Samantha Nielson

Updated
Herbalife's debt surged this year
As discussed previously, Herbalife's (HLF) shares fell the most after the announcement of its 3Q14 results. The company's estimates for the current quarter and year disappointed investors. Herbalife is also facing allegations by William Ackman, activist investor and CEO of Pershing Square Capital Management, that it's a pyramid scheme. The hedge fund manager's campaign has led to regulatory investigations into the company's business practices.
Article continues below advertisement
Pershing Square's shareholder letter highlighted an increase in Herbalife's debt. The fund added, "Total debt is now $2.025 billion having increased by $1.15 billion from the issuance of convertible bonds to finance a $1.3 billion share repurchase earlier in the year at prices more than 50% above current levels." Herbalife currently has $1.1 billion of net debt.
Why did the debt increase?
Earlier this year, Herbalife increased its share buyback by 50% to $1.5 billion. It also announced a $1.15 billion sale of convertible bonds. Herbalife said the initial purchasers of the convertible bonds, due August 15, 2019, are Bank of America Merrill Lynch, Credit Suisse, HSBC, and Morgan Stanley. Herbalife said in its latest 10Q report that "since inception in 2007, total share repurchases amounted to approximately $3.1 billion."
Article continues below advertisement
In April, the company stopped its quarterly cash dividend and said it would instead use the cash to repurchase additional shares during the second quarter of 2014. While share buybacks continued in the first and second quarters of 2014, Herbalife said it didn't repurchase any shares during the third quarter.
Pershing Square believes stock price could decline further
While Herbalife's debt has risen, cash from operations has fallen to $101.8 million. The company's total cash for 3Q14 was $678 million, which was down from $774 million sequentially. Pershing Square said that out of this total cash, "only $181 million is held by Herbalife's parent and its U.S. entities, and is available for debt service, share repurchases or dividends."
Pershing Square further said it believes "the expiration of HLF's $1.15 billion credit facility in 2016 is a potential catalyst for further stock price declines, as we are skeptical that the company will be able to access the credit markets in order to refinance or replace this facility."
Herbalife's management said on its 3Q14 earnings call that the company anticipates free cash of around $470 million to $500 million in 2015. They said the cash will be used to "repay debt, support growth and accelerate returns to shareholders."
Herbalife competes with multilevel marketing companies such as Nu Skin Enterprises, Inc. (NUS), Usana Health Sciences, Inc. (USNA), Avon Products, Inc. (AVP), Tupperware Brands Corporation (TUP), Mannatech, Inc. (MTEX), and Amway. Among its peers in the multilevel marketing space, Tupperware has the highest dividend yield, which is currently at 4.25%, followed by Nu Skin at 3.07%.
While Ackman has been busy with Herbalife, another stock rallied last week on news of the activist investor's interest. We'll have more details in the next part of this series.