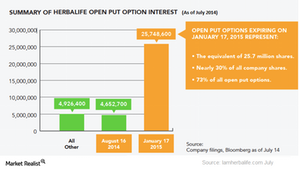 Limited risk of Herbalife stock price increase, Ackman believes
By Samantha Nielson

Nov. 27 2019, Updated 7:50 p.m. ET
Herbalife stock price increase
William Ackman, founder and CEO of Pershing Square Capital Management, has campaigned against Herbalife (HLF) since December 2012. He has released numerous presentations and reports alleging that the nutrition and weight loss company's multilevel marketing model is a fraud and a pyramid scheme. Ackman believes the company needs to be shut down and recently said he expects an implosion in 2015.
Ackman believes there's little chance of an Herbalife stock price increase. Pershing Square's third-quarter shareholder letter stated that Herbalife's stock price is down almost 50%. It added, "With the company's progressively weakening balance sheet, a deteriorating business profile, and the ongoing and active regulatory investigations (as evidenced by the company's continuing material costs to respond to these investigations), we believe that there is limited risk of a sustained increase in HLF's stock price from current levels."
Article continues below advertisement
Maturities of put options extended
In 2012, Ackman said he was shorting 20 million shares, or $1 billion worth, of Herbalife stocks with a price target of $0. The fund's short equity position was later reduced by more than 40% and replaced with long-term derivatives, mainly over-the-counter put options to "mitigate the risk of further mark-to-market losses."
Recent news reports stated the fund has extended the maturities of its put options. The options were supposed to expire in January 2015. In August, analysts noted increased trading on Herbalife's options and added that Ackman might have extended the maturities of the $50 put option contracts since the regulatory investigation on Herbalife could take more time.
Pershing Square's activist strategies have generated large returns
Pershing Square Holdings said in a recent shareholder letter, "While our activist approach to investments has generated large returns on capital, historically we have deployed, on average, only about two-thirds of our capital in this strategy. The balance of our funds has been invested in cash and passive value investments, which have generated minimal returns."
For the third quarter of 2014, Pershing Square said its position in Herbalife added 3.2% to its performance. Other notable activist positions include Canadian Pacific Railway (CP), Air Products & Chemicals (APD), Allergan, Inc. (AGN) and Burger King Worldwide Inc. (BKW).
Pershing Square also recently saw rumors of an activist stake in fast-food giant McDonald's (MCD) that will be discussed in the later parts of this series.
Herbalife's other hedge fund investors
Activist investor Carl Icahn, who owns a 16.8% stake in Herbalife and is its largest shareholder, has previously defended the company against Ackman. Icahn has also said that the company "is very undervalued." George Soros' Soros Fund Management significantly lowered its position in Herbalife in the third quarter that ended on September 30, 2014 . The fund currently owns 1,888,288 shares, down from 4,736,337 shares in 2Q14.