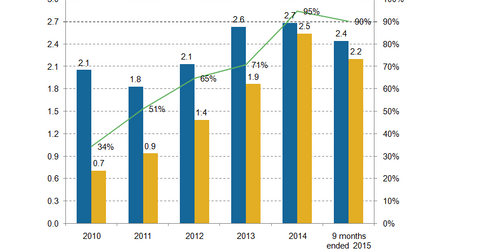 3Q15 financials for Salesforce.com a mixed bag
By Anne Shields

Dec. 6 2014, Updated 2:12 a.m. ET
Aggressive data center expansion
Salesforce.com (CRM) is expanding its data centers so that it can serve government agencies as well as local small and medium-sized businesses (or SMBs). This move is expected to address customer concerns about housing sensitive business data in a post-Snowden America.
The potential of the SMB market is also drawing the attention of tech leaders like Facebook (FB) and Microsoft (MSFT). Microsoft already has an extensive SMB installed base. Also, Microsoft CEO Satya Nadella possesses a background in SMB software.
Article continues below advertisement
Cash, cash flows, and debt
For 3Q15, Salesforce.com reported operating cash flow (or OCF) of $245.89 million. It increased by 34.23% compared to 3Q14. The company's cash and marketable securities and deferred revenue stood at $1.8 billion and $2.22 billion, respectively.
Deferred revenues
For 3Q15, combined deferred and unbilled deferred revenue stood at $7.6 billion. It grew 28% compared to 3Q14. According to FBN analyst Shebly Seyrafi, this revenue approximates about 123% of total estimated revenue for the next four quarters.
The graph above shows the growth of liquid assets, deferred revenues (or DR), and DR as a percentage of liquid assets. To understand the implications of the increase in Salesforce.com's deferred revenues, please read Must-know: Is an increase in deferred revenues cause for concern?
Low quality of earnings
On the plus side, Salesforce.com posted good revenue growth and an improvement in cash flow from operations that led to a stock price increase from the past year. Encouraging news about Salesforce.com benefits the Technology Select Sector SPDR Fund ETF (XLK), which has significant exposure to the company.
Despite the abovementioned positive developments, certain issues concerning Salesforce.com's financials cannot be ignored. The lack of margin expansion, deteriorating net income, high levels of stock-based compensation as compared to its peers like Amazon (AMZN), and high debt indicate a poor quality of earnings for the company.