Why Rio's operations performed well
By Anuradha Garg

Nov. 26 2019, Updated 9:23 p.m. ET
Iron ore
Rio Tinto (RIO) is on track to deliver 360 million tons per year for the June 2015 start up. The infrastructure for this expansion is almost complete.
Total iron ore production was 216.2 million tons for the first nine months of 2014. Rio Tinto's share was 173.8 million tons. This was 11% higher than the same period in 2013. Rio maintained the previous guidance of 295 million tons of production for this division for 2014.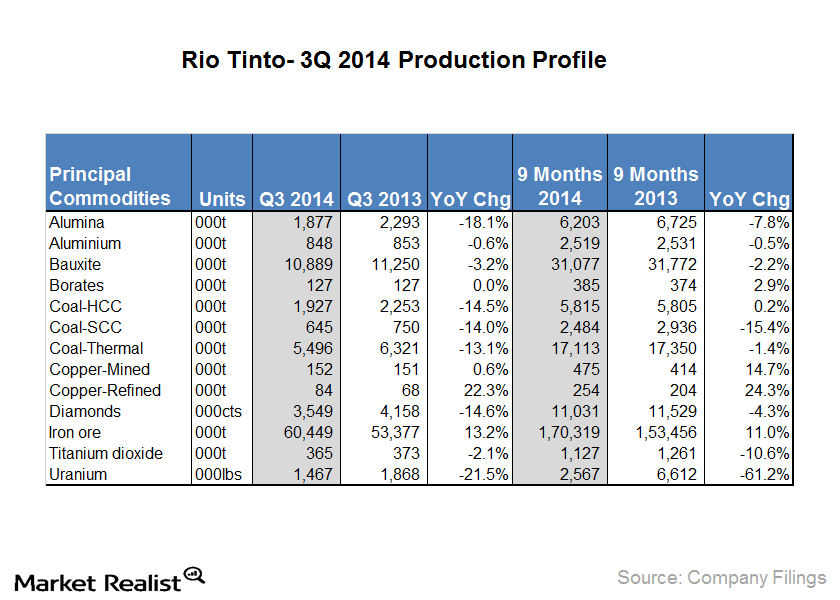 Copper
Rio's three main production sites—Kennecott Copper, Escondida, and Oyu Tolgoi—achieved better production results than market expectations. Total copper production was 475,000 tons for the nine months ending in September.
Rio also upgraded the guidance for copper production in 2014. It expects 615,000 tons of production—compared to the previous expectation of 585,000 tons. The production is expected to increase because there should be less maintenance downtime at Kennecott.
Aluminum
Aluminum production growth was flat year-over-year (or YoY) for the first nine months of the year. It was 2.52 million tons. Rio's guidance remains unchanged at 41 million tons and 3.4 million tons for bauxite and aluminum respectively.
Energy
Hard coking coal production in the first nine months of 2014 was in-line with 2013. Semi-soft coking coal production was 15% lower. This reflects changes made to the production mix to maximize revenues by optimizing thermal coal production.
Rio increased its expected share of thermal coal production to 18 metric tons (or Mt)—it was 17.5Mt. The guidance for Australian hard coking coal production was reduced to seven Mt—it was 7.4Mt.
Diamonds and minerals
Article continues below advertisement
Titanium dioxide feedstock production was 365,000 tons. It was down 2% quarter-over-quarter as production was aligned to market demand. Diamond production of 3.5 million carats was lower than the previous quarter. It was lower because of lower grades and throughput after the majority of stockpiled ore was processed in the first half.
Titanium dioxide feedstock production guidance remains unchanged at 1.5 million tons. Guidance for diamonds was reduced from 16 million carats to 15 million carats.
Iron ore accounts for the biggest portion of Rio's revenues and earnings. It continued to surprise on the upside. Its record that quarterly production and capacity expansion were on track.
BHP Billiton (BHP) also released its production update a few days earlier. It announced significant capacity expansions. This could favor low-cost big producers—including Vale SA (VALE). However, for smaller players—like Cliffs Natural Resources (CLF)—it would be very difficult to survive such a deluge from low-cost producers.
The SPDR Metals and Mining ETF (XME) invests in the above mentioned stocks.