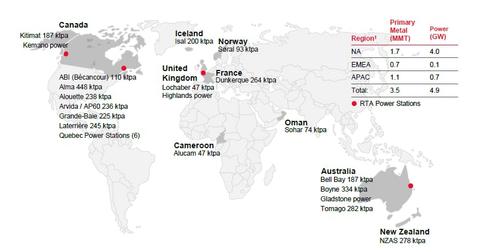 Why Rio's aluminum operations are moving to the lower quartile
By Anuradha Garg

Updated
Aluminum group operations
Rio Tinto (RIO) and Alcan combined in 2007. They formed Rio Tinto Alcan. It's a global leader in the aluminum industry. Its fully integrated facilities include high-quality bauxite mines, large-scale alumina refineries, and some of the world's lowest cost aluminum smelters.
Aluminum is a light, strong, flexible, non-corrosive, and recyclable metal. It has applications in transportation, machinery, and construction. To learn more about aluminum, please visit our Aluminum page.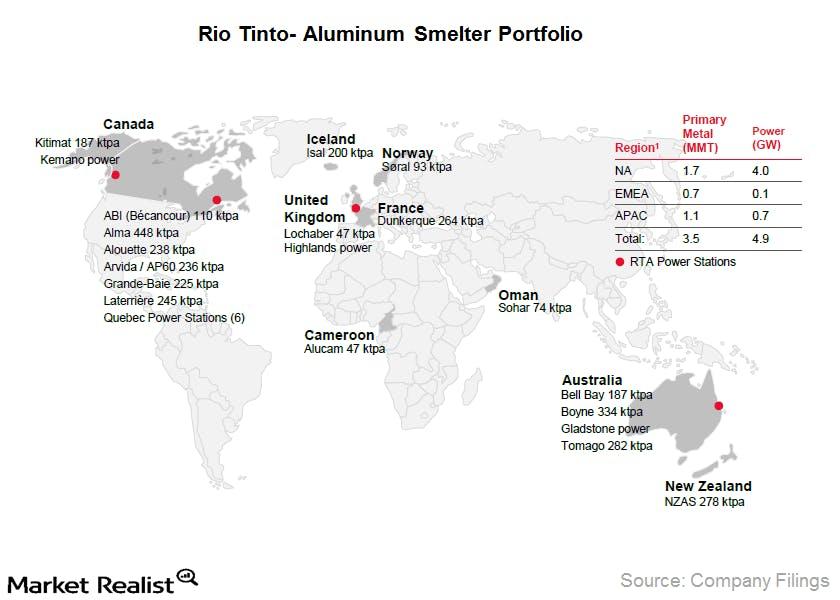 Major products under the aluminum product group include:
Bauxite – It's a natural ore used to make aluminum. It's refined into alumina. Alumina is smelted into aluminum metal. The company's wholly-owned and joint venture mines are located in Australia, Brazil, and Guinea.
Alumina – Alumina is extracted from bauxite through a refining process. Approximately four tons of bauxite are required to produce two tons of alumina. Two tons of alumina produces one ton of aluminum metal. The company's alumina refineries are located in Australia, Brazil, and Canada.
Aluminum – Smelters are mainly concentrated in Canada. It also has plants in France, Australia, New Zealand, Cameroon, Iceland, Norway, the United Kingdom, and Oman.
The company focuses on low cost assets by divesting high-cost assets. As a result, there have been 11 divestments in this division since 2009. Many of the company's assets are in the upper half of the cost curve.
Key advantages
Rio Tinto has some key advantages in this segment. It has access to the largest and best-quality bauxite reserves in the industry. Rio Tinto Alcan has the first quartile position in aluminum smelting. It has the second quartile cost position for alumina refining.
Rio Tinto Alcan generates 51% of its own power requirements versus the industry average of 38%. This drives significant cost and other advantages.
Peers
Aluminum demand growth has been strong. This should be positive for Rio's peers in the aluminum business—including BHP Billiton (BHP), Alcoa (AA), and Century Aluminium (CENX). The aluminium industry can also be assessed through Kaiser Aluminum Corp. (or KALU), Constellium (or CSTM), and the SPDR S&P Metals and Mining ETF (XME).