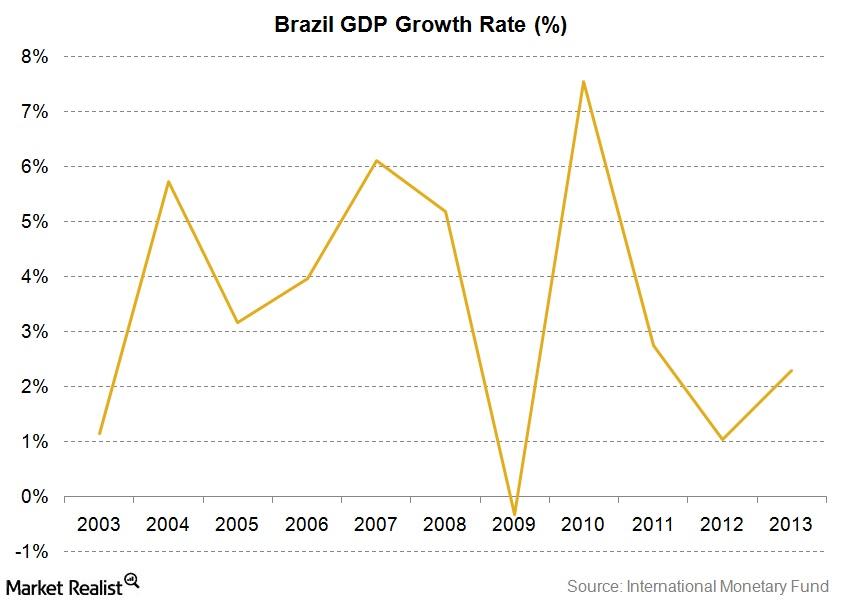 Why Brazil's economy has more than 1 issue
By Surbhi Jain

Nov. 27 2019, Updated 2:23 p.m. ET
Brazil
We've discussed why Brazil is attractive to investors. We also mentioned points of caution while investing in Brazil in our earlier series, "Is Brazil's economy as strong as its soccer team?" We discussed why economic growth is sluggish in Brazil. We talked about low productivity and inadequate investment in infrastructure and housing are growth roadblocks.
There are also more severe economic, fiscal, structural, and geographical issues that hinder growth in Brazil.
Article continues below advertisement
Upswings and downswings in growth in the Brazilian economy are directly reflected in the performance of the iShares MSCI Brazil Capped ETF (EWZ). The EWZ invests in Brazilian equities—like oil giant Petroleo Brasileiro SA Petrobras (PBR) and the mining firm Vale SA (VALE). EWZ tracks broad market performance in Brazil—much like the WisdomTree India Earnings Fund (EPI) for India and the VanEck Vectors Russia ETF (RSX) for Russia.
Economic and fiscal issues in Brazil
Brazil is facing a slowing economy. Currently, its annual economic growth is below 1%.
Inflation in Brazil is rapidly approaching the annual limit of 6.5%. Currently, it's hovering above that limit.
Unemployment continues to increase in Brazil.
Inequality, a result of the country's colonial legacy, still exists. The south and southeast areas are inhabited by the wealthier class—compared to the other parts of Brazil.
Government spending is a topic of debate. Some people think it needs to be reigned in, while other people support it.
Brazilian manufacturing output still isn't competitive abroad.
Structural and other issues
Labor remains a sensitive area for Brazil. The country has seen a series of high-profile labor disputes in the past. This put pressure on the government.
Infrastructural bottlenecks led to Brazilian production of commodities—like iron ore and soybeans—outgrowing the country's transportation infrastructure over the past two decades. Getting the produced commodities to port is difficult. There's an immediate need to improve and expand Brazil's road, rail, and port infrastructure.
Drought conditions in Brazil are mainly affecting the energy and agriculture sectors. Sao Paulo's drought is said to be the worst in 80 years.
Brazil's geography works against it. It's situated on the tropical territory. It has a densely forested interior that's expensive to clear. Also, the climate, soil, and water still aren't favorable for any kind of agricultural or construction activity.
However, Brazil's immediate issue is to control its spiraling inflation. Due to certain structural and economic constraints, Brazil is in an inflation trap. We'll discuss this in the next part of the series.