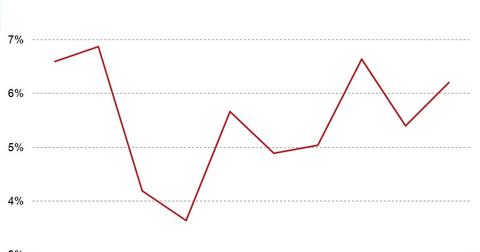 Why Brazil is caught in an inflation trap
By Surbhi Jain

Updated
Growth is inflationary
For a country with resource constraints, growth is often inflationary. An economy grows after increased business and economic activity. This also leads to increased demand for land, labor, capital, transportation, and infrastructure. The increased demand for these inputs creates an upward pressure on prices. This leads to inflation.
Inflationary growth continues only until the economy is able to derive potential benefits—like increased output, capital, and infrastructure formation—amid the rising prices. There comes a point where the price increase overtakes these potential benefits—the resources used aren't affordable. At that point, the growth rate starts declining and the economy starts moving into a recessionary phase.
Inflation trap in Brazil
Article continues below advertisement
Brazil's case is a little different. Brazil has limited resources at its disposal. Basic resources—like unforested land, skilled labor, capital, and transport infrastructure—exist in extreme scarcity in Brazil. An increase in demand for any of these resources immediately puts upward pressure on the associated costs.
The lack of  skilled labor leads to an immediate wage spiral. Shortage of capital supply limits business investment. The disconnect between cities creates transportation roadblocks. It also increases costs. So, in Brazil's case, growth almost instantly triggers inflation. Inflation increases to levels that are detrimental to growth.
Recently, commodity-rich Brazil has been able to grow mainly because of a broad increase in commodity prices. There has also been heavy foreign investment into Brazilian infrastructure to get at those commodities.
Brazilian oil giant Petroleo Brasileiro SA Petrobras (PBR) and the mining firm Vale SA (VALE) have made good money over the years. The iShares MSCI Brazil Capped ETF (EWZ) is heavily invested in these firms. The EWZ is also invested in Ambev SA (ABEV) and Itau Unibanco Holding SA (ITUB).
While the socioeconomic landscape in Brazil has many issues, the political landscape has different opinions and approaches about how to revive the nation. In the next part of the series, we'll discuss the political landscape in Brazil.