Why Brazil is caught in the China trap
By Surbhi Jain

Nov. 27 2019, Updated 2:26 p.m. ET
The China trap
China is contributing to Brazil's issues in numerous ways including:
Chinese products flooded the Brazilian markets. This gave direct competition for market share to Brazilian manufacturers.
China is also giving indirect competition to Brazilian manufacturers by shipping goods into Brazil through other Mercosur member states.
Top exchange-traded funds (or ETFs) invested in Chinese equities include the iShares FTSE China 25 Index Fund (FXI), the iShares MSCI Hong Kong ETF (EWH), and the Deutsche X-trackers Harvest CSI 300 China A-Shares ETF (ASHR).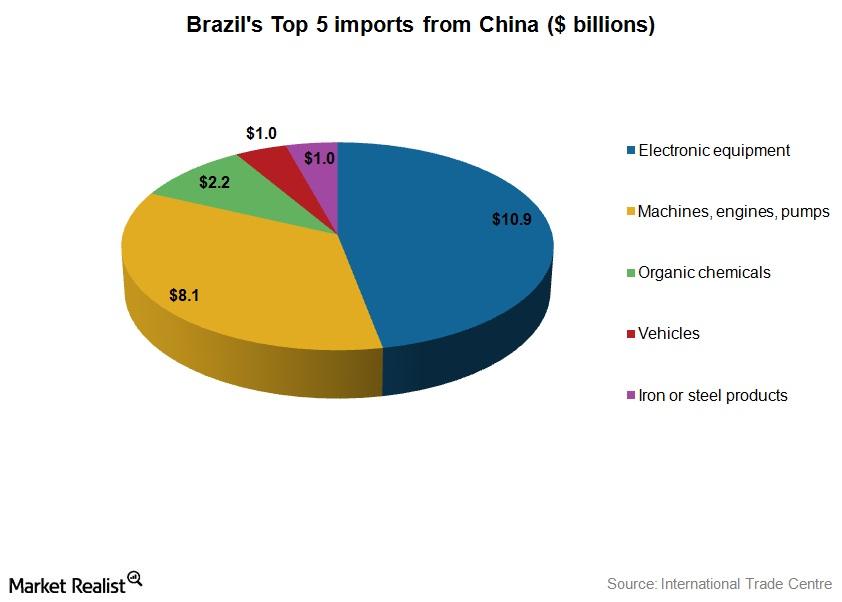 Why Brazil depends on China?
By allowing Chinese products and investments to enter its territory, Brazil invited competition from the one economy that's capable of damaging its protected industrial base. Throughout the past decade, the Brazilian government sought Chinese investment mainly to help alleviate some of the country's infrastructural and transportation bottlenecks.
Brazil's agricultural and mining export boom was driven by China's insatiable demand for commodities. China needed Brazilian resources to support its rapid industrialization. As a result, it offered the investment.
The iShares MSCI Brazil Capped ETF (EWZ) along with its portfolio companies—Petroleo Brasileiro SA Petrobras (PBR) and Vale SA (or VALE)—gained with the commodity boom in Brazil.
However, infrastructure development in Brazil required granting Chinese firms access to Brazilian markets. Consequently, exports of manufactured goods from China to Brazil increased at an average annual rate of 50% between 2004 and 2008.
Mineral and soybean exports represented ~62% of the total export trade from Brazil to China. Imports from China comprised 12.5% of Brazil's total imports in 2010. This was hard on Brazilian manufacturers. They had a hard time competing with Chinese goods. The Chinese goods were priced better.
The situation in Brazil hasn't improved since then. In fact, it got worse with rising inflation, unemployment, and drought conditions. These issues had an adverse impact on economic and social conditions in Brazil.
So, what option does Brazil and its government have in the current situation? We'll discuss this in the next part of the series.
Article continues below advertisement