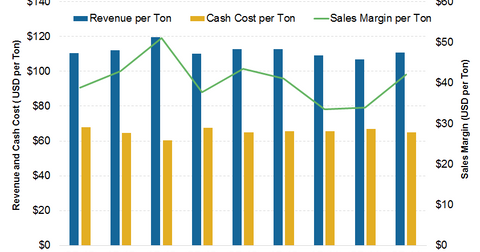 U.S. iron ore: Strong volumes, cost cuts beat market expectations
By Anuradha Garg

Updated
U.S. iron ore business
Cliffs Natural Resources Inc's (CLF) U.S. iron ore (or USIO) segment mainly sells iron ore to integrated steel companies in the U.S. and Canada such as Arcelor Mittal SA (or MT). The segment's less sensitive to seaborne prices as most of its contracts are long term. Also, most production is only for sale in the U.S. where the company has logistical advantages over international peers including BHP Billiton Limited (BHP), Rio Tinto (RIO), and Vale SA (VALE).
Article continues below advertisement
U.S.-based mines have an annual rated capacity of 32.9 million tons of iron ore pellets. The pellets are produced by agglomeration and thermal treatment. This segment represents ~59% of the U.S. pellet production capacity. To learn more about Cliffs' U.S. iron ore division, read A must-read guide to Cliffs Natural Resources' operations.
U.S. operating performance 
U.S. iron ore pellet sales volume was 6.8 million tons, compared with 6.3 million tons in the third quarter of 2013. The increase was primarily driven by an additional contract in 2014 and higher shipments to customers that were heavily affected by the Great Lakes freeze in the first quarter of 2014.
Sales margin, which represents segment operating income, fell from $43.52 per ton in 3Q13 to $32.05 per ton in 3Q14. This is because of the fall in realized prices for USIO linked to a fall in spot prices. Meanwhile, the realized revenues remain quite strong at $100.7 per ton. That's a drop of 12% from the same quarter last year, compared to the benchmark price, which fell by 48% in 3Q 2014 as compared to 3Q 2013. Realized revenues could also be stronger because U.S. steel producers are doing better than the rest of the world.
Outlook
For 2014, the company maintained its full-year sales and production volume expectation of 22 million tons of iron ore pellets. It also maintained the cash-cost per ton expectation of $65 to $70, along with a depreciation and amortization expectation of ~$5 per ton.