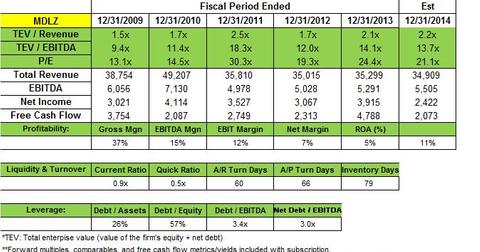 Trian Fund adds position in Mondelez International
By Patricia Garner

Updated
Trian Fund and Mondelez International

Trian Fund Management, L.P. added to its positions in the Bank of New York Mellon Corporation (BK), Mondelez International Inc (MDLZ), PepsiCo, Inc. (PEP), and Tiffany & Co. (TIF). During the second quarter of 2014, the fund decreased its positions in Allegion plc (ALLE) and Ingersoll-Rand plc (IR), and sold its position in GNC Holdings, Inc.(GNC).
A 13D filing in September reveals that Trian Fund added to its position in Wendy's Company (WEN).
Trian Fund added to its position in Mondelez International Inc, or Mondelez, in the quarter ended in June. The stock accounted for 23.10% of the fund's 2Q14 portfolio.
Overview of the company
Mondelez is a global snacking powerhouse and a world leader in biscuits, chocolate, gum, candy, coffee, and powdered beverages. It owns billion-dollar brands:
Oreo, LU, and Nabisco
Cadbury, Cadbury Dairy Milk, and Milka
Trident
Jacobs
Tang
Earnings per share (or EPS) and operating income beats estimates
Mondelez reported that net revenues were $8.4 billion, down 1.8%. Meanwhile, operating income was $957 million, up 10.6%. Diluted EPS increased 9.1% to $0.36. Revenue growth was down due to a challenging global retail and consumer environment, as well as pricing actions.
Article continues below advertisement
Second-quarter organic net revenue increased 1.2%. Overall, pricing was up 3.6%. And volume and mix declined by 2.4%. Price elasticity, a slower-than-expected response by competitors to higher input costs, and significant price-related customer disruptions in some European markets—which were more challenging than expected—explain the slowdown.
Adjusted EPS grew 19.4%, driven by operating gains, lower interest expenses, and share repurchases.
In the second quarter, organic net revenue from emerging markets was up 4.7%, but in developed markets, fell by 1.2%. Overall, Power Brands grew 1.3%.
Revenue breakdown by region
Latin American revenue increased by 11.8%, driven by pricing gains in the inflationary economies of Venezuela and Argentina. Brazil grew high single digits, with solid growth across all categories.
Asia-Pacific revenue was down 8.3%, due to continued weakness in China and a more intense retail and competitive environment in Australia and New Zealand. India delivered another quarter of double-digit growth.
The Eastern Europe, Middle East, and Africa (or EEMEA) region was up 6.3%, driven by volume and mix, and pricing. Russia's growth was in the mid-single digits, with solid gains in biscuits, candy, and coffee. The region also delivered strong double-digit growth in Turkey, Central Asia, and the Middle East.
European revenue was down 1.9%. Volume and mix declined due to pricing-related customer disruptions, particularly in France. Though chocolate and cheese prices were up, overall pricing in the region was down slightly due to the pass-through effect of lower green coffee costs. Lower coffee revenues tempered growth by 0.4%.
North American revenue grew by 2.7%, driven by mid-single digit growth and continued share gains in biscuits and candy. Volume and mix was the primary driver of growth despite modest pricing.
Merger with D.E Master Blenders 1753 B.V
On May 7, 2014, the company entered into an agreement to combine the company's wholly owned coffee portfolio (outside of France) with D.E Master Blenders 1753 B.V. In conjunction with this transaction, Acorn Holdings B.V. (or AHBV), owner of D.E Master Blenders 1753, made a binding offer to receive the company's coffee business in France.
Upon completion of the deal, Mondelez will receive cash equal to approximately $5 billion and a 49% equity interest in the new company, to be called Jacobs Douwe Egberts. AHBV will hold a majority share in the proposed combined company and will have a majority of seats on the board. The board is to be chaired by current D.E Master Blenders 1753 chairman, Bart Becht. Mondelez will have certain minority rights.
In the next part of this series, we'll discuss Trian Fund's position increase in PepsiCo.